MARKETPLACE
Through investment in our people, technology and focus on our supply chain UP is committed to providing high quality certified sustainable and traceable Palm Oil products and services to customers worldwide. We aim for continuous improvement and work towards building long-term relationships through interaction and discussions about sustainability, global trends, health and nutrition with customers, suppliers, business partners and other stakeholders in the marketplace.
By interactions with customers and other stakeholders, a deep understanding of this responsibility has been developed and provides a healthy avenue for continuous improvement in quality and food safety by minimizing risks throughout the supply chain. Furthermore, UP has gained much knowledge on market trends and has become more capable of responding to them.
Product Quality
Quality is an integral part of UP's corporate culture. It is our strong objective to deliver premium quality products and services that are safe and based on a high level of responsibility.
Quality Policy
It is the policy of UP to produce quality palm oil, palm kernels, coconuts and their derived products to the total satisfaction of our worldwide valued customers.
Our Quality Philosophy includes:
Upholding the name and reputation of UP as a top producer of premium quality palm products.

N

urturing a diligent workforce who takes pride in contributing to the development of the Company.

I

nitiating and innovating positive, progressive work ethics, methods and incorporating a winning culture.
Training of personnel is the key to upgrading our skills and keeping in trend with the marketplace.

E

nsuring that only the best quality palm products are produced, to the satisfaction of our customers' needs

D

elivering decisive efforts in Research and Development to continuously improve our working methods, efficiency and product quality.
UP recognises the importance of safeguarding its customers by ensuring the highest standards in quality as well as environmental and social care.
Our quality focus starts from our Research Department and continues through every aspect of our agricultural, milling and downstream activities until the final product is delivered to our customers.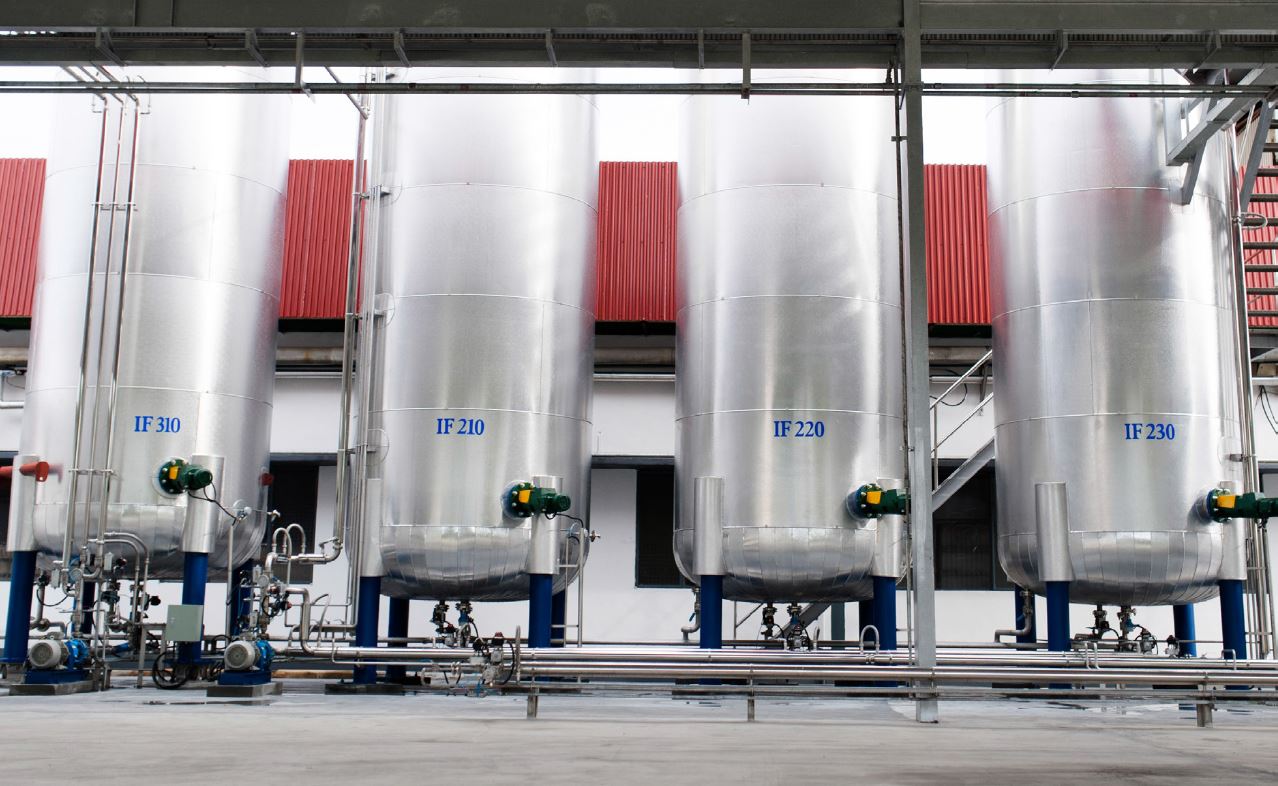 Food Safety and Sustainability Certification
Our Commitment in food safety for sustainable and consistent high- quality products is endorsed by relevant international certification bodies.
Quality Policy and Food Safety Policy
Unitata and UniFuji are fully committed to producing high quality palm oil products which are safe for human consumption that meets the statutory and legal requirements for the overall satisfaction of her customers.
As part of our commitment to uphold Unitata and UniFuji as premium palm oil producer, much emphasis is placed on quality assurance throughout the various stages in both refineries.
This is evidenced through our continuous investments in the latest process technology and sophisticated analytical equipment that provide accurate and timely controls to ensure customer satisfaction on high product quality and food safety.
Edible Oil Refining and Specialty Fats Production
Attention to quality, investment in production facilities and ongoing product development are priorities in order for Unitata and UniFuji to meet challenging and changing customer demands.
In order to cater for the growing demand of high-quality products, our refineries is equipped with automated manufacturing processes such as Neutralization, Bleaching, Deodorization, Fractionation, Interesterification and packaging of specialty fats and oils.
Thorough process controls and a disciplined manufacturing culture, helps ensure that quality assurance procedure is in place in order to comply with customer requirements.
Consumers today have an increased focus on safety and health as well as producing food through a transparent and traceable supply chain based on optimum processes that focuses on reducing processing aids, water and energy and the overall GHG footprint. Furthermore, social care and strong emphasis on human rights for employees are increasingly seen as non-negotiable principles, as well as protection of fragile ecosystems including Peat land and forests. In UP and all our subsidiaries, we are committed to being a part of this positive change by providing the highest quality of certified sustainable and traceable Palm Oil products and services to customers worldwide.
Food Safety and Certifications
To keep up with increasing demands on traceability in the supply chain, we have obtained numerous local and international certifications as follows: 
Unitata:
ISO 9001, HACCP, Halal, Kosher, BRC, FDA, SEDEX, RSPO SCCS, MSPO SCCS, GMP, GMP+ B2 Feed Safety, MeSTI and MPCA. 
UniFuji:
ISO 9001, HACCP, Halal, Kosher, FSSC 22000, FDA, SEDEX, RSPO SCCS, MSPO SCCS, GMP and MeSTI.
As a requirement for the above-mentioned certifications, Unitata and UniFuji are audited annually by the various certification bodies and by customers. To improve and further strengthen our supply chain transparency, Unitata had been audited under SMETA (Sedex Members Ethical Trade Audit) a platform that encompass four pillars of responsible practices, ie. Labour, Health and Safety, Environment and Business Ethics.
In March 2020, UniFuji has been audited by Verite and Arche Advisors, two independent and non-profit organizations , with the purpose of transparently improving safety and human rights gaps within our supply chain.
In addition, Unitata is continuously auditing and assessing our key suppliers of raw materials, packaging, and ingredients based on our established risk assessment procedures. All packed products are traceable to their raw materials including additives and packaging materials via batch and code numbers printed on the labels, which meet the requirements of the Malaysian Food Act and the requirements of the respective export markets. Furthermore, Unitata and UniFuji have established and validated our process controls to consistently minimize the risk of contaminants and meet the highest food safety standards. 
Both refineries also emphasize on the element of food defence as part of product security. This assures the protection of our products from malicious contamination, adulteration or theft, and in this connection, relevant food safety training is of high priority for all employees in order to keep abreast with the increasingly demanding food safety requirements.
LOW 3-MCPD, Glycidyl Esters and MOSH & MOAH
3-MCPD and Glycidyl Esters are contaminants formed during the processing (refining) of edible oils and fats and has recently become a topic of concern for vegetable oil refiners and consumers based on a report published by the European Food Safety Authority (EFSA) in May 2016.
The EFSA Panel on Contaminants in the Food Chain (CONTAM Panel) published the results of its assessment of the safety of 3-MCPD and Glycidyl esters with respect to human health. Available evidence from animal studies indicates that kidney toxicity is the most critical health effect of 3-MCPD in rats. Using this data, EFSA established a tolerable daily intake (TDI) for 3-MCPD for humans which represents the maximum amount that can be consumed daily over a lifetime without being harmful to health. It includes a very large margin of safety.
The TDI for 3-MCPD has been calculated as 0.8 micrograms per kilogram of body weight per day (μg/kg bw per day.)
In line with our focus on sustaining and improving the production of high quality products within our Group much attention is directed towards reducing contaminants in our supply chain.This dedicated focus has enabled us to produce refined palm oil with levels of 3-MCPD and Glycidyl Esters that are amongst the lowest in the industry. 
This is a testimony to more than 4 decades of research activities undertaken at our Unitata refinery combined with our Group's dedicated quality commitment within all parts of our supply chain.
MOSH and MOAH
Of nearly equal repute in being a contaminant to final oils and fats is the new and emerging contaminant called Mineral Oil Hydrocarbons (MOH). It encompasses two main sub groups namely saturated hydrocarbons, generally present at a ratio of 80/20 with MOAH trailing behind MOSH.
MOSH is believed to accumulate in human tissues and cause adverse effects to the liver while MOAH, the greater menace of the two, is reported to be genotoxic carcinogens-causing damage to the DNA leading to cancer. Hitherto, there has been no binding threshold limits set by the EU legislature save for Germany who is leading the way in drafting out their own national plan.
Regulations from member states such as Germany quite often end up being adopted by the greater Europe- a trend which we have seen in the past. Currently, customers favour suppliers whose thresholds, through consensus, are guided by the rule as low as reasonably achievable, ALARA.
In this respect a task force on MOSH/MOAH chaired by our CED was set up in 2018 to initiate a clear goal to meet the ALARA levels. Since then, baseline occurrence of the contaminant has been drawn and ensuing mitigation efforts have been carried out both through the plantation, mill and the refineries. As a result of these stringent quality controls and assessments, UP, Unitata and UniFuji are today able to meet the very stringent customer demand for oils used in especially the production of infant formulas. We are committed to further reducing the levels of these contaminants to the benefit of the customers globally.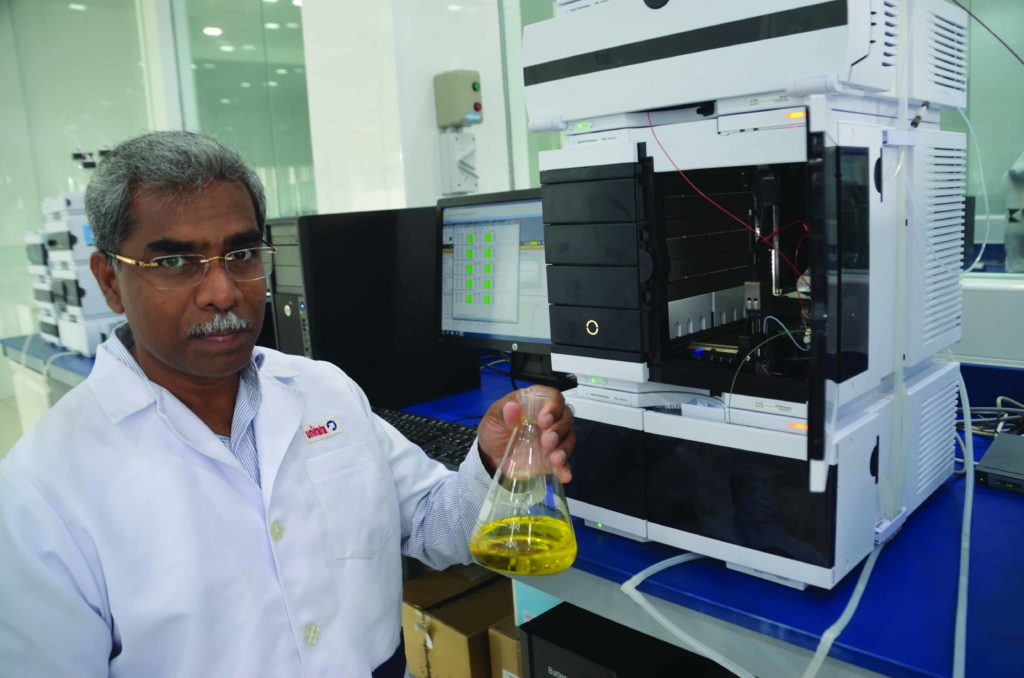 Customer Satisfaction
At Unitata and UniFuji, the annual customer satisfaction survey is used to measure how our finished products meet our customer's expectations. This annual survey is an important measure in relation to our continuous improvement attitude and provides us with an important understanding of our service and collaboration with our customers based on their valuable feedback.
The survey focuses on three key areas which are:
Product quality
Service quality
Delivery timeliness
The results are analysed and tabulated in an appropriate graphical form for presentation at the management review meetings as well as during the various certification audits throughout the year. Besides that, Unitata and UniFuji also adopts an on-going communication method with customers to keep them engaged with their products. Regular communication with customers enables Unitata and UniFuji  to develop products and provide the necessary service to ensure a continuous customer satisfaction which cannot be taken for granted in the competitive business of refining.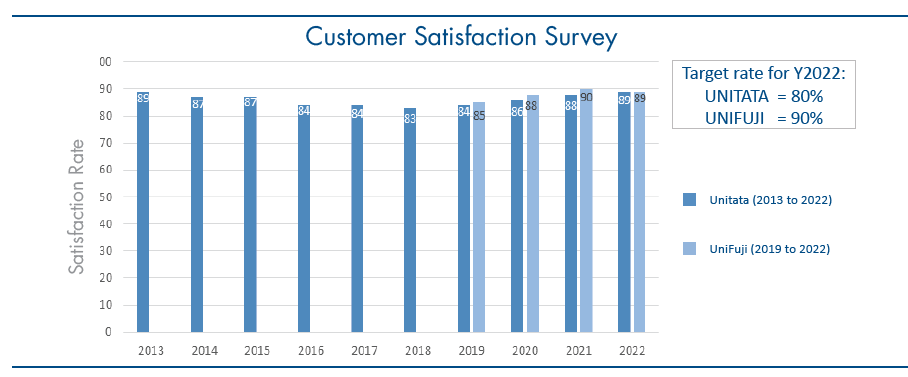 MSPO and RSPO Supply Chain Certifications
In 2008, before RSPO Supply Chain Certification was introduced, Unitata was the first company to ship refined RSPO certified segregated palm oil to customers worldwide which was verified by independent surveyors.
In December 2010, Unitata received its Supply Chain Certification and have since been able to handle and deliver first class sustainably certified and segregated palm and palm kernel oil solutions to customers worldwide based on the RSPO supply chain traceability system.
UniFuji received its RSPO Supply Chain Certification in September 2018 and is able to deliver high quality certified and sustainable palm based products under the segregated RSPO supply chain solution to customers worldwide.
The RSPO cooperates with the traceability service provider, UTZ who through the RSPO-Trace system ensures that the necessary traceability is in place in order for proper certification of palm and palm kernel oil that is used in the refining process.
The supply chain certification is the buyers' and consumers' guarantee that the palm oil or palm kernel oil used in the production of finished goods actually comes from the claimed RSPO source.
This requires records to be kept to demonstrate the volume of CPO or CPKO sold as sustainable oil does not exceed the amount produced by the upstream RSPO certified mills.
In November 2017,  Unitata had their first verification audit by one of their key customers for supply of certified material. The audit was conducted independently by a third party auditor appointed by the customer . It was a full traceability audit on the origin of materials supplied by Unitata Bhd.
It was a successful audit and the auditor concluded that the material sourced by customers is 100% traceable throughout the supply chain.
In 2019, Unitata and UniFuji successfully achieved the MSPO supply chain certification.
Product labelling
Unitata had received a cargo detention notice, for one of our consignment of packed products, from the US FDA authority in March 2017 for supply of our packed products due to insufficient nutritional information on product labelling. Necessary changes to the nutritional information on our product labelling was made on FDA recommendations to ensure that future exports are in full compliance with FDA regulations. Since then, there have been no further issues in terms of export of our packed products into the USA.
Sustainable and Traceable Supply Chain
Our Commitment to ensure that the certified sustainable palm oil and palm kernel oil used in the production of finished goods actually came from sustainable sources.
In the following section, we will be providing an overview on both our upstream (Plantations) and downstream (Refining) business activities in relation to our focus on improving traceability in our supply chain for the benefit of our global customers and stakeholders in general.
As an important part of United Plantations' traceability focus, we strive to ensure that our supply chain (direct and indirect suppliers) live up to our Group's commitment towards the No Deforestation, No New Development on Peat and No Exploitation of People and Local Communities (NDPE) Policy.
The interest for certified sustainable and segregated palm oil is increasing as many global brand manufacturers have committed to only use RSPO certified and segregated palm oil solutions. Traceability is therefore important in order to ensure that the certified sustainable palm oil and palm kernel oil used in the production of finished goods actually come from sustainable sources.
Upstream Operations
All CPO sourced in Malaysia is RSPO certified under the Supply Chain model of Identity Preserved (IP). In Indonesia, we have undergone RSPO certification for part of our plantations (with HGU certificates) and have successfully achieved RSPO certification for these areas in 2018. Currently the mill is RSPO certified under the Supply Chain model of Mass Balance (MB).
Full certification and production of RSPO certified and segregated palm oil traceable to the mill and plantations is expected to be reached in 2023 for our Indonesian operations in tandem with the issuance of land use certificates by the local Government authority for our properties (Inti) and Plasma land.
In this connection, we are increasing awareness by retraining and carrying out audits within all operational areas of our group. The results of these measures will be monitored and incorporated in our future reports or Company Website as part of our continuous improvement commitment.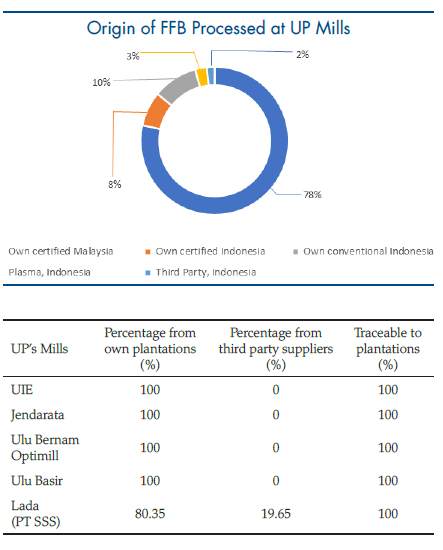 The location of UP owned mills is tabulated below: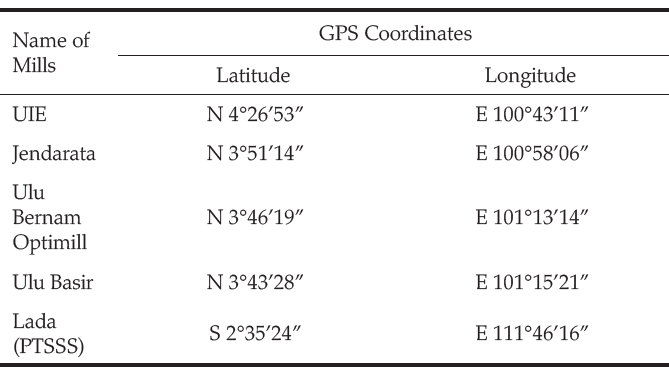 The location of third-party FFB suppliers for PTSSS is tabulated below: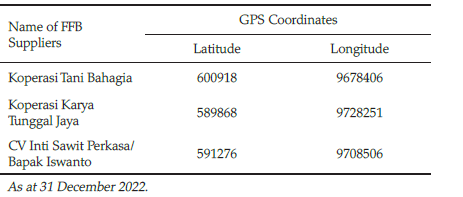 Click here to view the geo-coded map indicating the third-party FFB suppliers for PTSSS here.
Our owned mills in Malaysia sourced FFB from own plantations in Malaysia only whereas our owned mill in Indonesia (PTSSS), sourced FFB from owned plantations and third-party FFB suppliers in Indonesia only.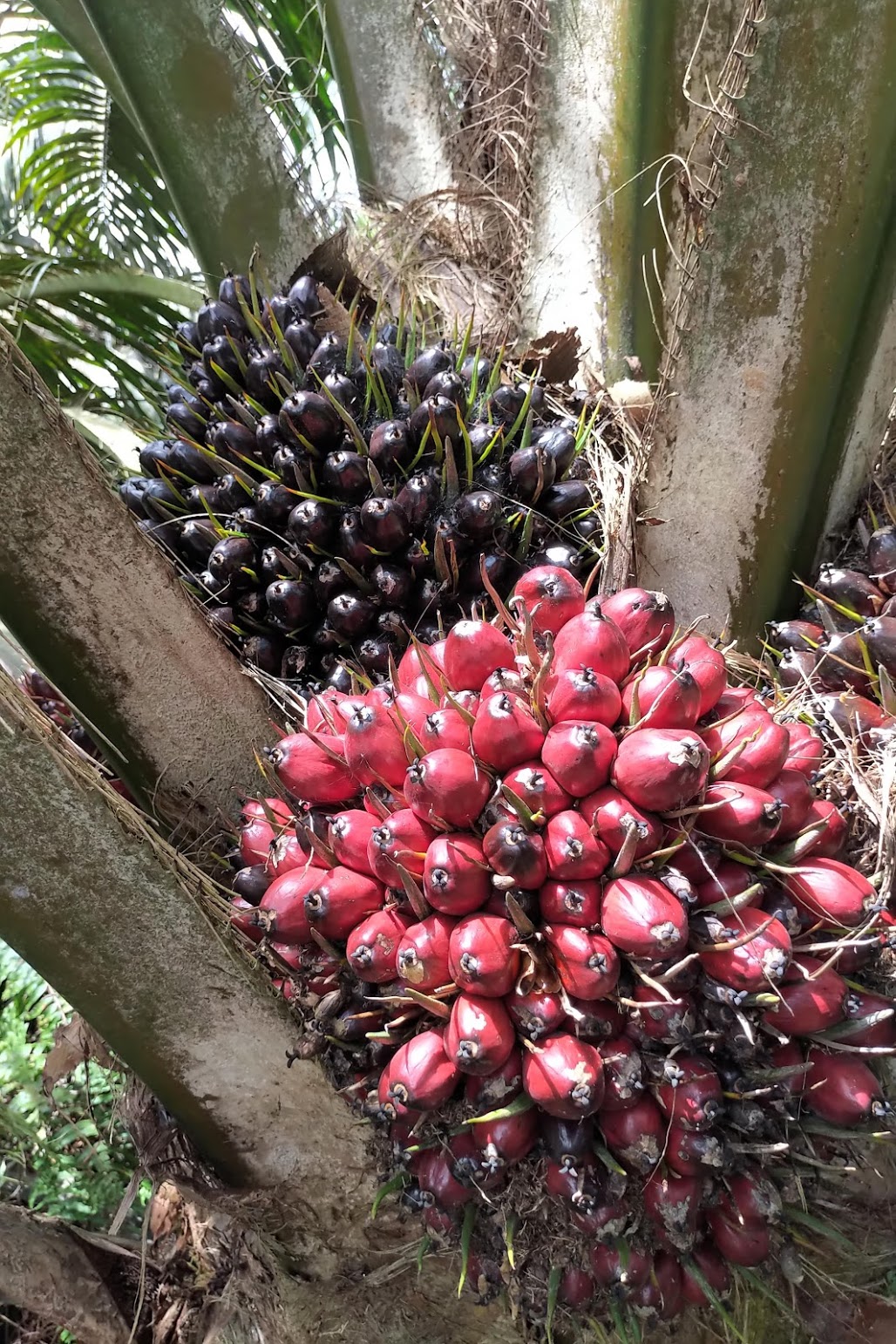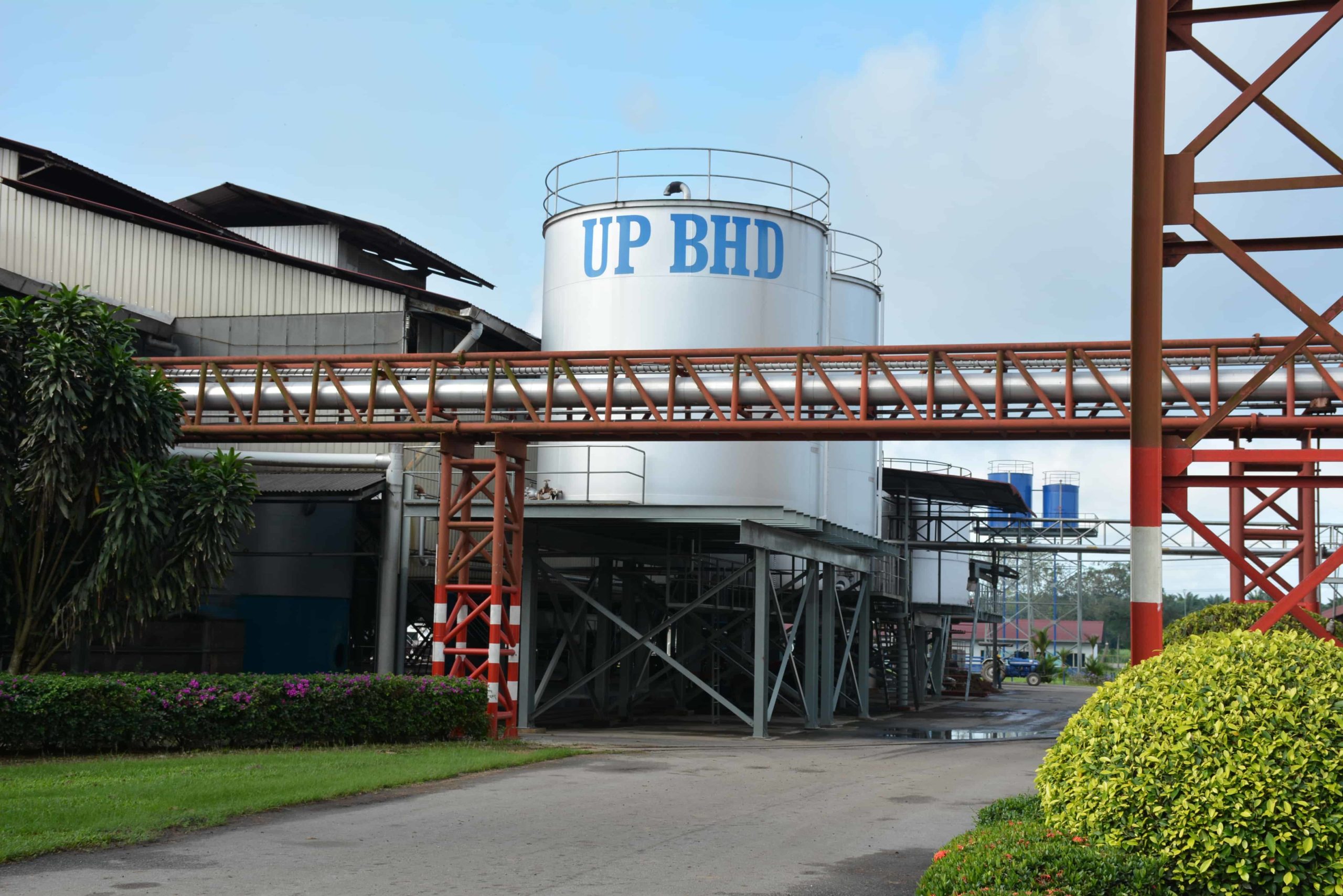 Downstream Operations –
Unitata
One of Unitata's key commitments to its customers is to ensure that our finished products can be traced back to its origins, namely palm oil mills and further to the plantation level where possible. Unitata is currently in a favourable position to meet this growing demand due to the direct link with UP's supply of RSPO certified sustainable and segregated palm oil traceable to the plantations.
The traceability of all our raw materials –CPO, CPKO, PPO, and PPKO sourced during 2021 is summarized in the below chart: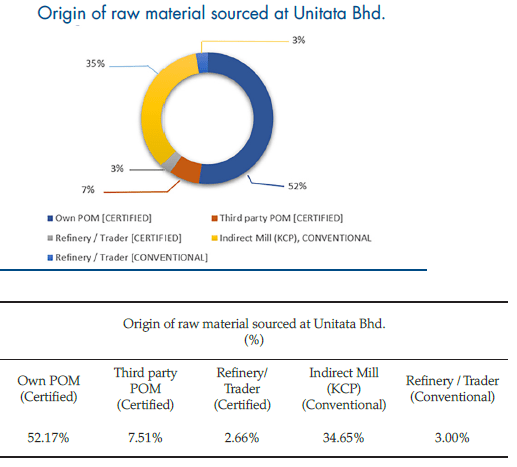 From this, it can be seen that the RSPO-certified percentage of all palm oil products handled/traded/processed (tonnes) s 62.34% (52.17% +7.51%+ 2.66%)
In Malaysia, 100% of the Crude Palm Oil (CPO) used at our Unitata refinery can be traced back to the mills and plantations. 100% of the CPO produced in Indonesia is traceable to plantations and is sold to neighbouring refineries as we don't have any downstream operations in the country.
All Crude Palm Kernel Oil (CPKO) derived from UP's own production of Palm Kernel (PK) can be traced back to the plantations, however, as the use of CPKO at our refinery exceeds the volume of CPKO derived from our own PK production, we source significant volumes of CPKO from external Kernel Crushing Plant (KCP) of which the main portion only can be traced back to the Palm Oil Mills (POMs). 
Going forward, we will be working with third party suppliers to increase the percentage of CPKO that can be traced back to the plantations in line with increased customer demand for traceability.
Our assurance for the level of traceability is based on our ability to identify the parent company, the mill name, mill coordinates, mill certification status from suppliers and plantations from where the crop (FFB) is produced.
The summary on the number of direct supplier mills supplying CPO and PK is tabulated below: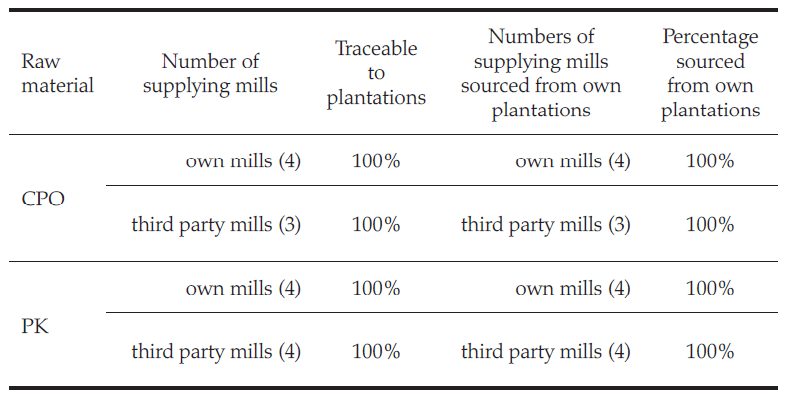 As of 31st Dec 2022, total CPO and PK supplying mills is 8 consisting of 4 own mills and 4 third party mills. The breakdown of these 4 third-party mills is as per below:
1 mill supplying CPO only
3 mills supplying PK only
All of the above own and third-party supplying mills 100% source from their own plantations.
For further details of our own direct supplier mills for Unitata, please click
For further details of our third-party direct supplier mills for Unitata, please click
The summary on the number of indirect supplier mills supplying PK to Kernel Crushing Plants (KCPs) from which we derive CPKO used at Unitata is tabulated below:

For further details of our third-party indirect supplier mills to KCP, please click.
All palm oil products in Unitata are sourced from direct and indirect suppliers mills in Malaysia only. Furthermore, the direct and indirect supplier mills sourced the palm oil products from the plantations in Malaysia only.
Our direct supplier mills for CSPO are 100% traceable to plantations level, however our indirect supplier mills for CPKO (via KCPs) are 100% traceable to mills level. We are working closely with our KCPs to reach out to our indirect supplier mills to improve the traceability of CPKO to plantations level. We are targeting to achieve 100% CPKO traceable to plantations level by 2027.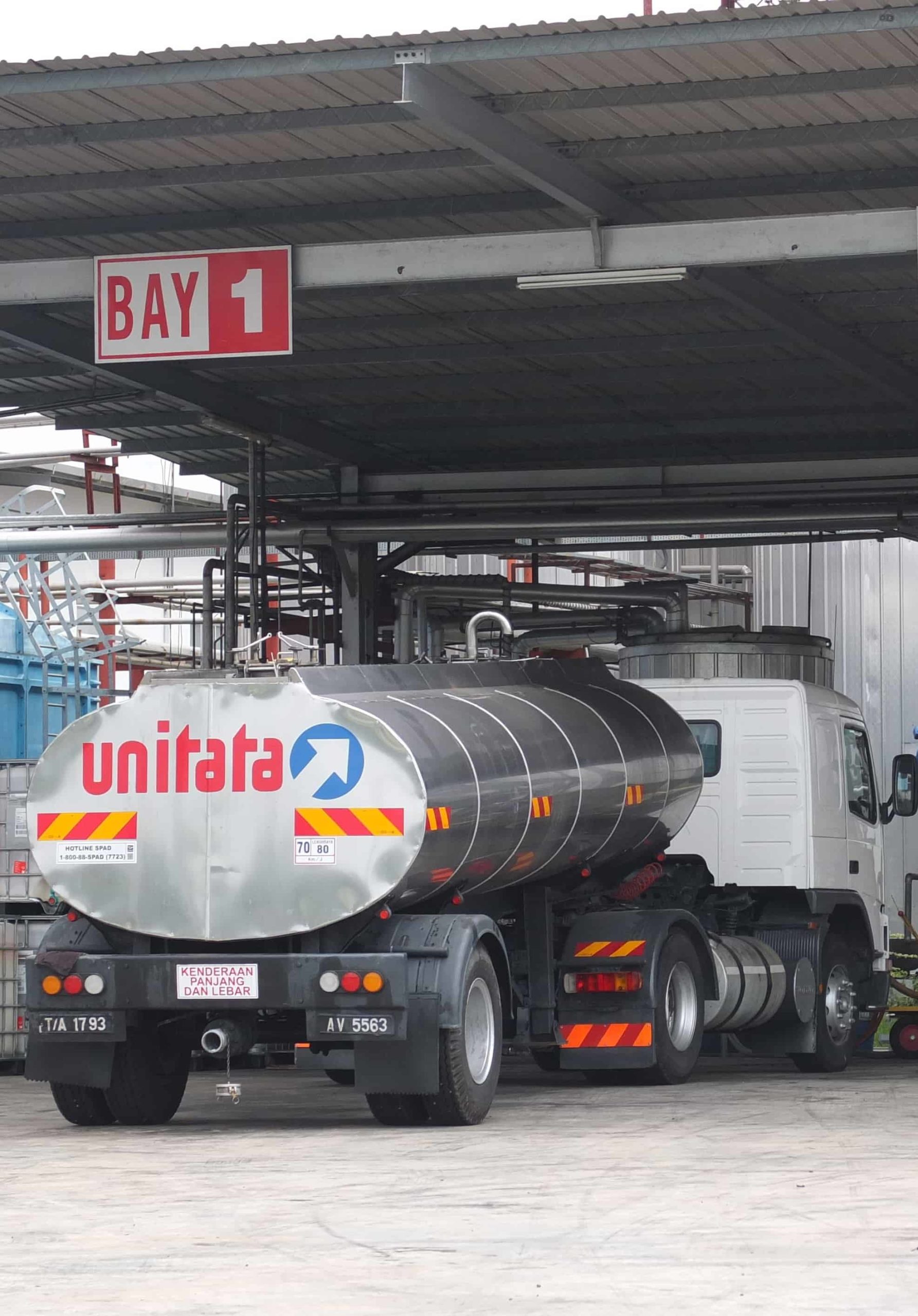 The percentage of traceability for Unitata is summarized in the chart below: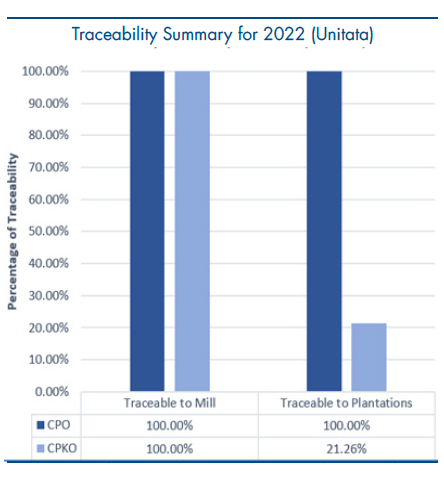 The traceability for overall combined volume sourced at Unitata for CPO, CPKO and refined products (from external refineries) is tabulated below:


The percentage of derivatives sourced from intermediary traders/refiners is tabulated below:

Downstream Operations – UniFuji
UniFuji sources crude palm oil internally from UP which ensures availability of RSPO certified sustainable and traceable palm oil to produce value added palm fractions to its customers. The origin of raw material sourced in the year 2022 can be summarized as per below table.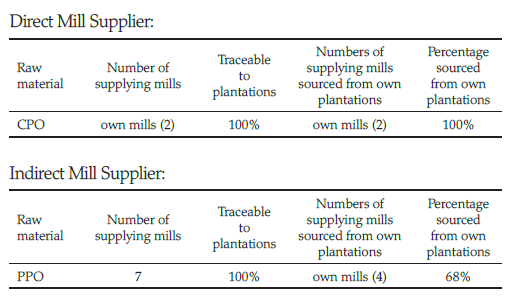 For further details of our own direct supplier mills for UniFuji, please click. All palm oil products in UniFuji are sourced from direct supplier mills in Malaysia only. Furthermore, the direct supplier mills sourced the palm oil products from the plantations in Malaysia only.
The origin of raw material sourced in the year 2022 can be summarized as per below graph.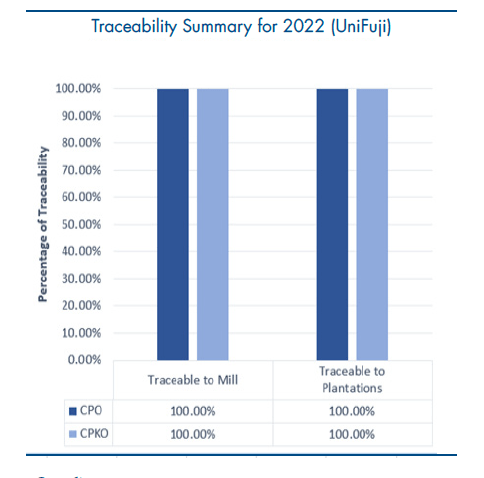 Please click here to view the Map on Estates, Palm Oil Mills and Biogas Plant under United Plantations Berhad.
Evaluation of Suppliers' Sustainable Commitments
As a part of our sourcing policy and continuous improvement focus, we engage with suppliers to improve practices on the ground and strengthen our supply chain and thereby ensure positive developments in the sustainable palm oil production journey. An important step towards improving our sustainability within economic, environmental and social areas of our business, we have invited our suppliers to join us along the journey. Our aim is to improve sustainability in our supply chain and ensure that our suppliers join us on this journey through close collaboration. Our approach to engagement includes conducting meetings, self-assessment questionnaire (SAQ), supplier audits, on-site verification and follow-up related to food safety as well as MSPO and RSPO certifications. At the same time, we also assist our suppliers to improve the scores of SAQ to meet the commitment in our Responsible Palm Oil Sourcing Policy and Code of Conduct.
Upstream Operations
At UP we have Self-Assessment Questionnaire (SAQ) to evaluate our suppliers within the upstream business area. Through engagement we discuss findings and explain and promote policies on health and safety, workers' rights as well as our expectations on adherence to our code of conduct and policies of sustainable palm oil.
For our third party FFB suppliers in Indonesia, we conduct site visits and raining sessions for smallholders and plasma farmers to improve good agricultural practices and promote sustainable palm oil policies and its implementation on ground.
The training sessions include emergency response on accident (first aid), safe handling of pesticides with appropriate Personal Protective Equipment (PPE), effective use of pre-emergent herbicides for less chemical usage, integrated pest management (IPM) and mechanized harvesting in order to assist them with their agricultural interests. In addition, demonstration on fire combat procedures were carried out to further enhance the awareness of neighbouring smallholders in case of fire incidence and were informed to contact UP for emergency assistance within close vicinity. 
We also explain UP's company policies specifically on our No Deforestation, No Peat and No Exploitation (NDPE) commitment as well as our suppliers code of conduct. However in 2021, we were unable to conduct any site visits nor trainings as per our annual training programme due to COVID-19 pandemic. This is nevertheless expected to resume during 2022.
Downstream Operations
At Unitata and UniFuji, we have developed a Self-Assessment Questionnaire (SAQ) since 2019 which is used annually in our engagement with suppliers.  This enables us to understand the current status of suppliers and their commitments to adhere to our Responsible Palm Oil Sourcing Policy.  Through this engagement, we categorize them as high risk, medium risk and low risk suppliers for further engagement.
The SAQ is sent directly to the below raw material suppliers:

In the spirit of collaboration and transparency, our Responsibility Palm Oil Sourcing Policy is discussed with the above suppliers to ensure that they live up to our policies and code of conduct across their entire operations in order to minimize and mitigate sustainability risks. If a supplier in our supply chain is categorized as high-risk based on the mentioned SAQ, we will conduct on-site assessments and engage with the supplier to agree to a reasonable time-bound action plan including further engagement to improve their SAQ score and thereby meet our Responsible Palm Oil Sourcing Policy requirements and commitments. In addition to the above, Unitata and UniFuji also carry out supplier audits on food safety and quality to evaluate risk materials, supplier's management systems, obtain their certificates to ascertain food safety and quality standards, as well as evaluate their hygiene and sanitation compliance.
The process to engage and assess our downstream suppliers is indicated in the flowchart below: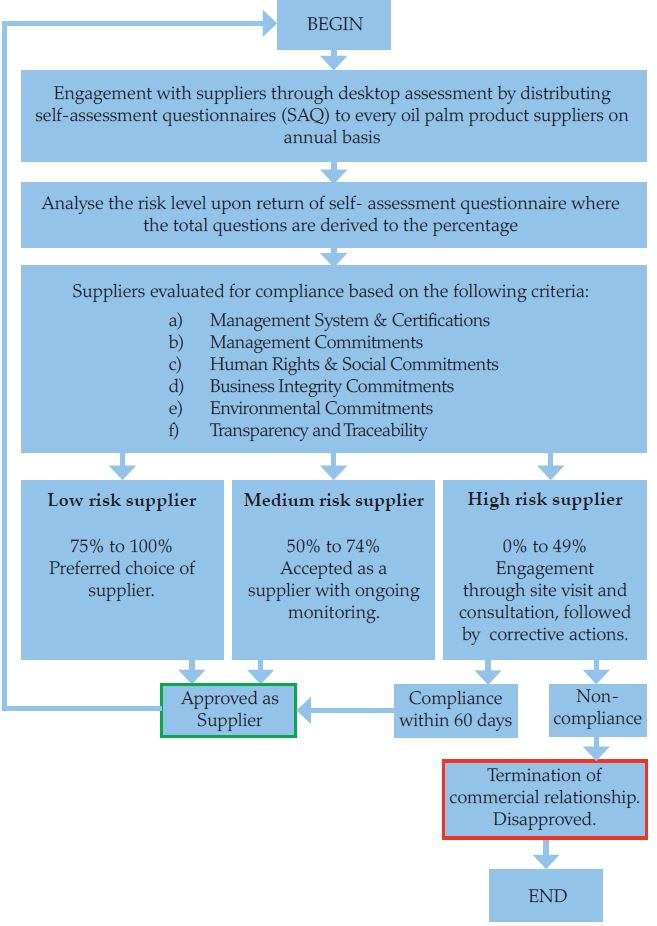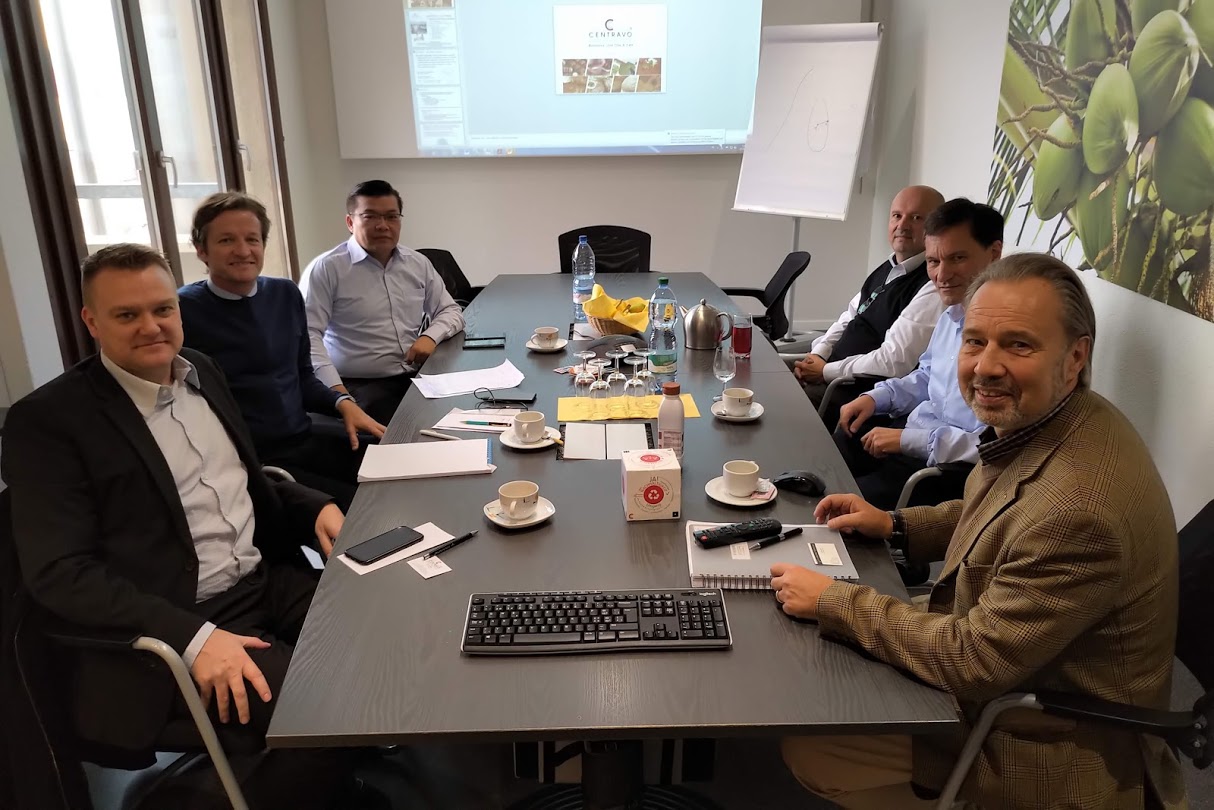 In the event that any suppliers violating or breaching the above policies or our Supplier Code of Conduct and thereby is viewed as a high-risk supplier (self-assessment scores below 50%), UP/Unitata/UniFuji shall immediately request for corrective measures to be implemented with a 60 days time-bound action plan and further engagement to ensure the suppliers live up to our Responsible Palm Oil Sourcing Policy.. We will moreover through dialogue and cooperation, encourage, and coach the supplier to implement the action plan by providing necessary support to see how challenges can be overcome and implemented for positive change. If a supplier is unable or unwilling to take the necessary actions to conform to the expectations outlined in our policy, UP/Unitata/UniFuji will as a last resort terminate its commercial relationship with the supplier.
Percentage of suppliers (FFB, CPO, CPKO and processed palm oil) that have been self-assessed to the key elements of Responsible Sourcing: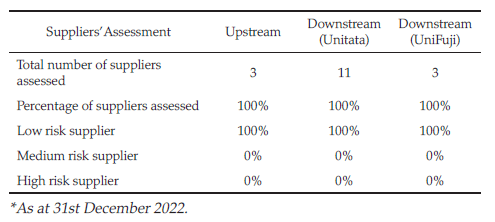 Commodity Prices
Prices of commodities are mainly the result of future expectations of Supply and Demand. Managing fluctuating commodity prices based on Board policies is an important part of our business in order to protect shareholder value.
Malaysia produces about a third of all palm oil in the world. Total palm oil production in Malaysia for 2020 was approximately 19.4 million tonnes with around 18.7% of the palm oil being consumed directly in the country. Because Malaysia is so dependent on exports, palm oil prices in Malaysia are very much driven by international supply and demand. Palm oil is traded in three forms: the physical market, the futures market and the paper market. Palm oil prices in the physical, futures and paper market are different because of transparency , liquidity and ease of execution. Numerous variables impact the prices of commodities as indicated in the below image.
As this is an area of high risk, much focus is being directed towards safeguarding the exposure to our business in connection with fluctuations in Commodity Prices.
Risks are an inevitable part of our business where price risk is considered to be of major significance. In connection with price risk, both outright prices and market structure (inverse/carry) are risks which need to be monitored , mapped and most importantly , dealt with. Within our refinery operationsthe physical market, the futures market and the paper market are used to manage some of the transaction exposure. However, strict controls and monitoring procedures include, amongst others , setting of trading limits approved by the Board and monitored closely by the Audit Committee through management reporting and both Internal and External Audits conducted frequently.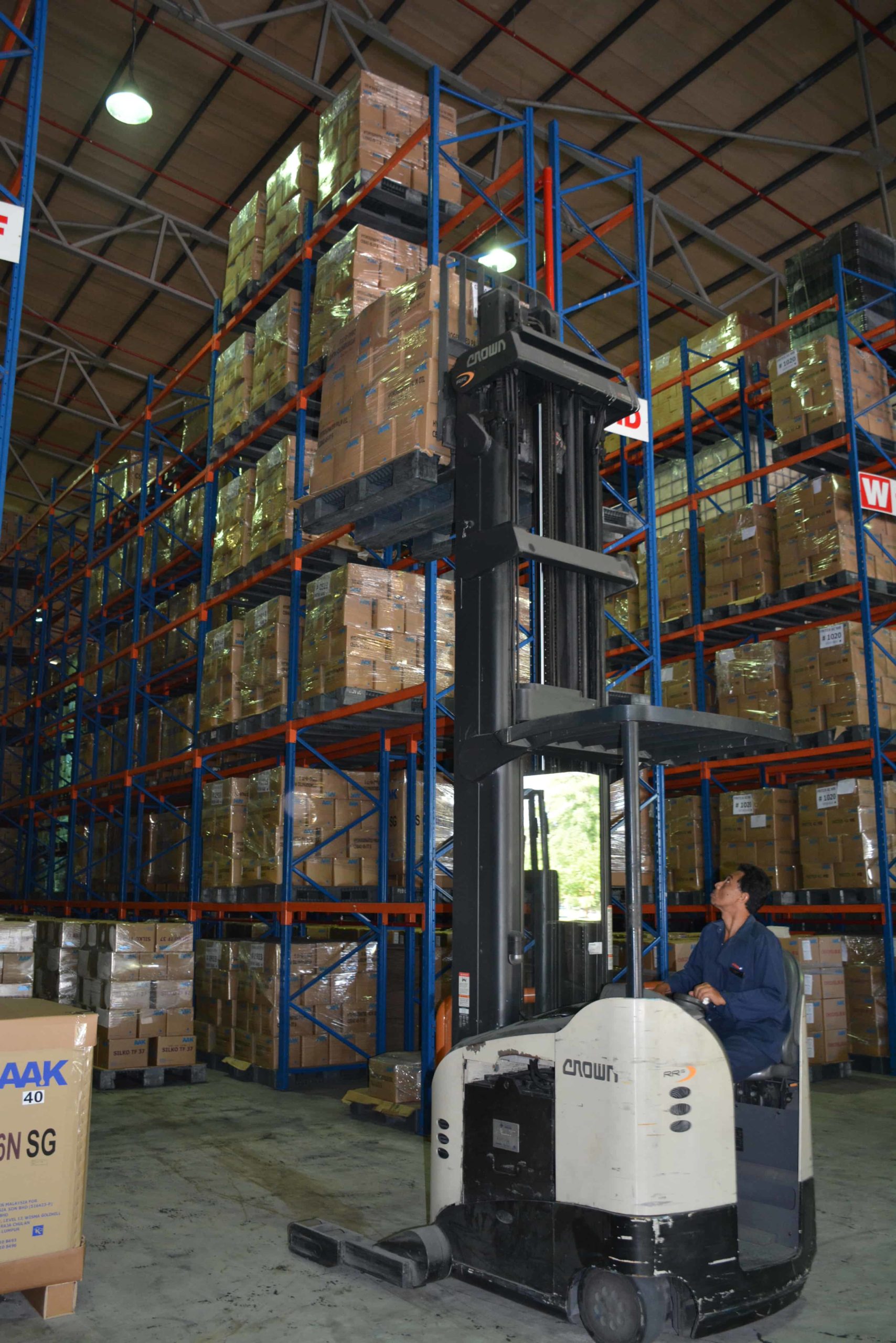 Currency Fluctuation
Managing adverse foreign exchange fluctuations based on Board policies is an important part of our downstream business activities in order to protect shareholder value.
For the export-oriented Refining Industry in which we operate, a weak Malaysian Ringgit against the USD has been an advantage as most of our costs are denominated in Ringgit whilst our sales prices are denominated in USD. More Ringgit per USD has therefore benefitted our downstream operations.
With margin pressure in the Malaysian Refining Industry due to fierce competition specifically from Indonesia, it is extremely important that currency fluctuations are managed in order to safeguard profits and minimize risks. In the same manner as with commodities, the Group uses forward currency hedges to manage some of the transaction exposure. Controls and monitoring procedures are in place and similar to what is done under commodities.