PLANTATIONS MALAYSIA & INDONESIA
United Plantations is one of the most efficiently managed, eco-friendly and integrated plantation companies in Malaysia and Indonesia. Our main focus area is cultivation of oil palms (90%) and coconuts (10%) in a sustainable manner. We are well known globally for our responsible agricultural practices and high-quality standards.
UP's total landbank covers approximately 63,000 Hectares of which about 71% is in Malaysia and 29% in Indonesia. In Malaysia, our plantations are located in Perak and Selangor, while in Indonesia they are located in Central Kalimantan.
In Malaysia, we operate 4 palm oil mills, which process fruit from our own RSPO certified plantations. All our mills run on green energy produced by our own biomass boilers and biogas plants. In Indonesia, our 60MT/hour palm oil mill processes fruit from our own plantations as well as associated smallholders and independent plantations.
Our Origins
Since the establishment of the Jendarata Rubber Company in 1906, UP and its predecessors have been gradually expanding its landbank of sustainably managed plantations throughout Malaysia and Indonesia. Besides rubber, coconuts were introduced in 1912, and in 1918 UP ventured into the first oil palm plantings with large-scale commercial planting beginning in 1926.
With over a century of experience, the UP Group has, through the concept of sustainable agriculture, built and strengthened its roots that formed during 1906 in Malaysia. With every generation of crops we plant, we have taken along the experience and applied the accrued knowledge to the new generations of palm trees entering the fields. We are convinced that balancing social, environmental, and economic principles is the recipe for long-term success. These principles are closely interwoven within UP's 14 estates covering 51,000 ha of cultivated land areas today, and will continue to form the basis of how we operate.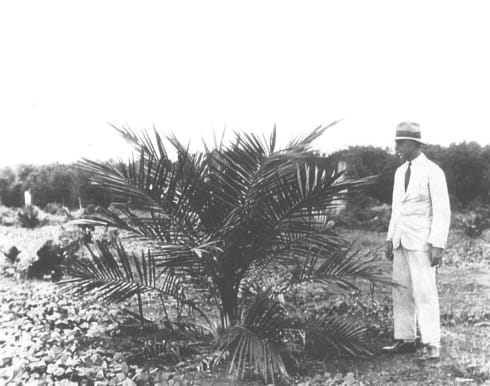 SUSTAINABILITY
At UP we view sustainability and good corporate governance as key pillars to our long-term success and have for generations interweaved Economic viability, Social responsibility and Environmental care into the way we conduct our business.
We remain fully committed to the Round Table on Sustainable Palm Oil (RSPO) and our policies covering No Deforestation, No New Peat Plantings and No Exploitation of People and Local Communities (NDPE).
We have also actively been pursuing ways to reduce our Greenhouse Gas Emissions (GHG) and new initiatives and investments continue to be made. Following an updated and very comprehensive Life Cycle Analysis (LCA) report undertaken from January to February 2023, it was pleasing to note that UP from 2004-2022 has managed to reduce its GHG emissions per kg refined oil by 62% (including indirect land use change and nature conservation).
These initiatives are an important component of UP´s business today and raises the bar for sustainable production even further.
CERTIFICATIONS AND TRACEABILITY
Our commitment to responsible Palm Oil Production was evidenced by the fact that UP was awarded the World´s first Round Table on Sustainable Palm Oil (RSPO) certification in 2008. This commitment to sustainability has been further reinforced by obtaining the Malaysian Sustainable Palm oil (MSPO) certification in 2018 and the Indonesian sustainable Palm Oil (ISPO) certification in 2019. Certification standards and on-going verification are key tools to provide assurance to stakeholders whether sustainable practices really are being implemented.
Certification and Traceability go hand in hand and today UP can fully trace 100% of its palm oil production back to the plantations thereby providing customers with assurance of where the origins of their products have come from.
HIGH STANDARDS AND PRODUCTIVITY
With our dedicated and capable team of employees, combined with our Company's history and unique culture, we are committed to Responsible Agricultural Practices and achieving high standards for our Plantations. To remain productive and cost efficient we focus on continuous improvement of our planting material and combine it with good field practices in the form of timely fertilizer application, proper harvesting standards and efficient crop evacuation amongst others. Only by optimizing all the many variables from seed production to the extraction of crude palm oil at the Mills are we able to reach the common objective of achieving high standards, best described through our Motto of being "Second to None".
Crop Statement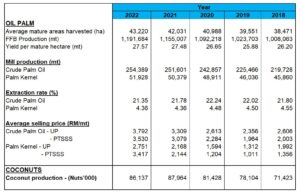 Area Statement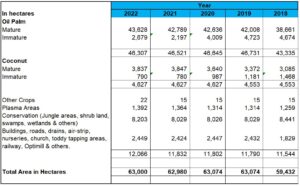 Out of 8,203ha conservation, 7,500ha is HCV and set-aside conservation area in line with RSPO ACOP 2022 whereas the balance 703ha is low risk grass land (based on RSPO Land Use Risk Identification), swamp and low lying area in PT Surya Sawit Sejati.
FFB, CPO, and Palm Kernel Production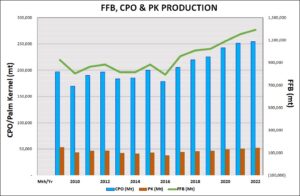 Oil and FFB Yields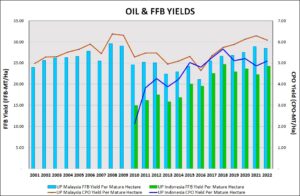 OUR ESTATES
United Plantations has twelve estates in Peninsular Malaysia and two estates in Central Kalimantan, Indonesia.
The first estate was established in 1906. The latest was added in 2019. Read below about the unique features of each estate.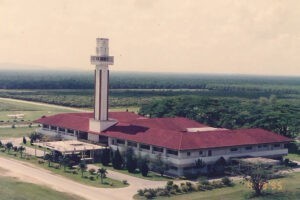 UIE ESTATES
10,365 hectares
UIE Estate, which has a total landbank of 10,369 ha, was acquired by the Group in 2003. Today, 8,958 ha are planted with oil palm and 789 ha with coconut. In addition, there are conservation areas of 91 ha. The conservation areas include the Bukit Kecil Forest Reserve, the Anak Machang Riverbank Reserve, and the Kingham-Cooper Tree Reserve.
To-date, 18,500 jungle trees from 250 diverse species have been planted and are being raised as a seed garden for propagation and conservation for future generations. UIE Estate also has a palm oil mill which has an operational capacity of 60 mt per hour, and a biogas plant generating electricity from methane capture.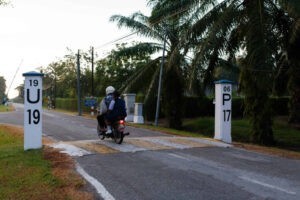 JENDARATA ESTATE
6,336 hectares
In 1906 Jendarata Estate was established for the purpose of planting rubber trees. It is our Group's oldest estate and houses a museum providing a good overview of UP's history.
Today, Jendarata Estate has a land bank of 6,336 ha, which is planted with 5,212 ha of oil palm and 772 ha of coconut.
The Registered office of the Group is located within this estate as well as the Group's Research Department. Furthermore, the estate also has a Group Hospital, an Old Folks Home, a temple from 1916, a Danish Bakery, the Unitata refinery and the oldest palm oil mill in the country, commissioned in 1934. This estate has 2 Biomass boiler plants and a Biogas plant for producing renewable energy from the by-products derived from processing FFB at the mill.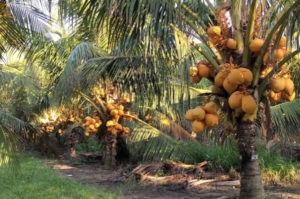 KUALA BERNAM ESTATE
830 hectares
Kuala Bernam Estate was acquired by the Group in 1926. The estate has a land bank of 830 ha of which 811 ha is planted with coconut. Fresh nuts from this estate are harvested daily and distributed all over Malaysia for the tender nut market for the tasty enjoyment of restaurant-goers in many places.
Being one of the oldest of UP's estates, Kuala Bernam has a historic atmosphere with several well-preserved buildings, not least the Estate Manager's Bungalow.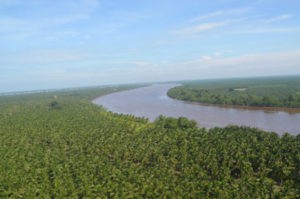 SUNGEI BERNAM ESTATE
2,276 hectares
Sungei Bernam Estate, which is located in Selangor across the Bernam River, was acquired by the Group in 1916 and has a land bank of 2,276 ha. Today, UP still operates a small, private ferry service to ease motorbike and on-foot transport to and fro the estate for employees and visitors alike.
In 1918, the first plantings of oil palm took place on Sungei Bernam. However, as times passed, the total area was developed with coconuts and under-plantings of cocoa. Today, the estate only produces coconuts which covers a total planted area of 2,255 ha.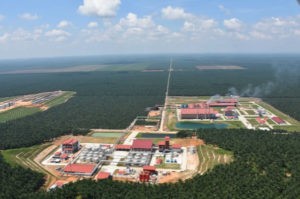 ULU BERNAM ESTATE
3,198 hectares
Ulu Bernam Estate was established by the Group in 1926. It was in this location that UP's first large-scale oil palm plantings took place including the establishment of its first palm oil mill in 1931. Today, Ulu Bernam Estate has a landbank of 3,198 ha, which is made up of 3,050 ha of oil palm.
This estate also has a Group Hospital, a Club and several well-kept colonial bungalows. In 2017 the old palm oil mill from 1931 was taken down and was superseded by a new state-of-the-art palm oil mill, the Optimill, with a capacity of 60 mt of FFB per hour. was established.The Optimill is adjacent to the UniFuji Refinery Complex established in 2018. The two factories run 100% on renewable energy derived from the mill's Biomass boilers and Biogas plant.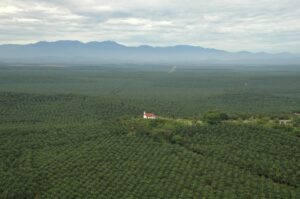 CHANGKAT MENTRI ESTATE
2,551 hectares
Changkat Mentri Estate, which was developed by the Group in the 1970s, has a landbank of 2,551 ha. Due to its undulating land area, tea was initially planted on Changkat Mentri, however, this was phased out and today it is planted with 2,364 ha of oil palm.
The Margrethe Hill, on which The Grut Sanctuary and the Garden of Remembrance together with The Petra- Andrea Church is located, is also found on this estate.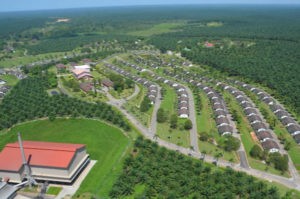 ULU  BASIR ESTATE
3,991 hectares
Ulu Basir Estate, which was developed by the Group in1982, has a landbank of 3,991 ha, and is planted with 3,738 ha of oil palm. This estate also has a palm oil mill which has an operational capacity of 60 mt of FFB per hour and a Biogas Plant. In addition, it has a large water reservoir providing clean water to the Optimill complex at Ulu Bernam Estate.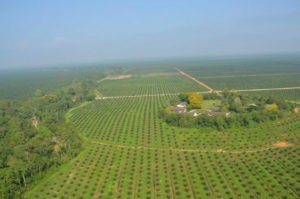 CHARONG ESTATE (ERONG DIVISION)
3,620 hectares
Charong Estate ( Erong Division) was developed by the Group in 1982. Erong is the name of a small river bordering the estate. Today, the estate has a landbank of 3,620 ha of which 3,508 ha is planted with oil palm. The estate houses several beautiful jungle corridors adjacent to the river.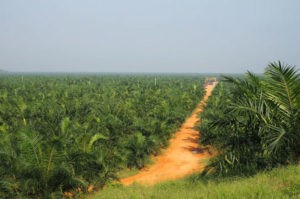 CHARONG ESTATE ( CHAWANG DIVISION)
3,281 hectares
Charong Estate (Chawang Division) , which was developed by the Group in 1982, has a landbank of 3,281 ha and is planted with 3,240 ha of oil palm.
Like all of UP's estates there is also a small airstrip which facilitates field inspections.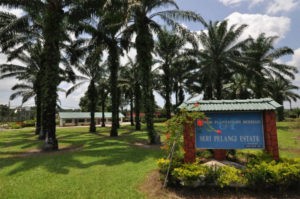 SERI PELANGI ESTATE
1,428 hectares
Seri Pelangi Estate, which was acquired by the Group in 1973, has a landbank of 1,428 ha, and is planted with 1,329 ha of oil palm. The palm oil mill on Seri Pelangi was closed in 2014 and since then all crop is transported to the Jendarata Palm Oil Mill for better capacity utilisation.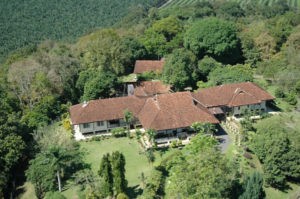 LIMA BLAS ESTATE
2,892 hectares
Lima Blas Estate was acquired from the Socfin Group in 2004. It has a landbank of 2,892 ha and is planted with 2,745 ha of oil palm. On this estate there is a 99 ha jungle sanctuary which was established in 1926. The estate also has a beautiful colonial styled club house called De Rivaud Club House which was inaugurated by Comte Rene De Rivaud in February 1951.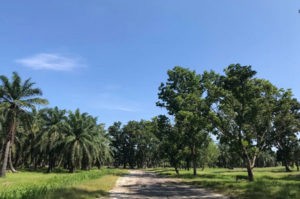 TANARATA ESTATE
3,656 hectares
Tanarata Estate, which was acquired by the Group from Pinehill Pacific Berhad in 2019, has a landbank of 3,656 ha. The Estate's palm oil mill has been closed down and the crop will be processed in our Jendarata Mill upon obtaining MSPO and RSPO certification in 2022.
Significant replanting is taking place as well as rehabilitation and construction of new houses for employees.
It is expected that around 3,400 ha will be planted with oil palm by the end of 2021.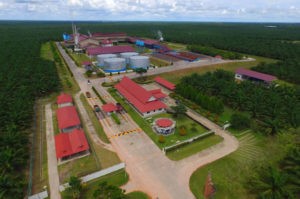 LADA ESTATE (PT SSS)
6,508 hectares
Lada Estate, which is situated in Central Kalimantan, Indonesia, was developed by the Group in 2006.Out of a total landbank of 6,508 ha, 4,917 ha is planted with oil palm and 1,306 ha is set aside as conservation areas, managed by our biodiversity team. This estate also has a state-of-the-art palm oil mill which has an operational capacity of 60 mt of FFB per hour and was commissioned in 2010, together with a Biomass boiler and a Biogas plant.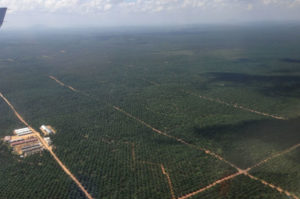 RUNTU ESTATE (PT SSS)
9,000 hectares
Runtu Estate, which is situated in Central Kalimantan, Indonesia, was developed by the Group in 2006.It has a landbank of 9,000 ha, and is made up of 3,562 ha of oil palm planted area and 4,119 ha of conservation areas. The terrain of this estate is undulating and known for its rich soils, which contributes to high oil palm yields.
OUR INDONESIAN OPERATIONS
United Plantations began its operations in Indonesia with its first purchase in 2006, expanding its sustainable plantation practice through the acquisition of estates in the country. Our goal is to take the experience and understanding gained through over a century of operations in Malaysia and apply it to create a new standard of sustainable palm oil throughout our Indonesian plantations.
Today, UP manages over 9,000 hectares of mature oil palm at its PT Surya Sawit Sejati estates, alongside over 7,500 hectares of the conservation area. That conservation area is an important part of responsibly managing the land and natural world around us, to allow our plantations in Indonesia to live as part of the local ecosystem, rather than just living off it.
Thanks to our commitment to best practice in cultivation and harvest as part of our circular economy goals, UP's estates in Indonesia now represent the forefront of sustainable palm oil production in the country.