COMMUNITY
Our business provides livelihood to families, small businesses and organisation in and around the plantations resulting in many people depending on our Group. Close bonds with our local communities are therefore a key priority to our organisation. We are committed in promoting socio-economic policies and progress in local communities we operate in.
Beyond the FPIC study and engagements with external consultants (LINKS), we have conducted participatory mapping and established a dedicated HUMAS Team under the Legal Department to conduct regular socialisation on land use and developments to prevent any conflicts with the surrounding communities. This is ongoing since 2010.
In 2022, our HUMAS Team has been continuously engaging and collaborating with the neighbouring communities to address and prevent any conflict. We are pleased to inform that in 2022, there is no genuine land conflict/dispute case.
Community Welfare
UP has an obligation to monitor and manage any impact our operations might have on these communities and at the same time ensure that our local communities receive financial, social support and benefit by developing the local communities in which we operate by creating jobs, paying taxes and doing business with local enterprises. Through respect and engagement with the local communities, important and continued integration being a key factor for the plantations' future success.
Social Commitments
Our Company's commitment towards providing and improving social amenities remains very much a hallmark within our Group. Continuous improvements were made during 2019 to maintain the highest possible welfare standards for our workforce and ensure high standard educational facilities for the children. Scholarships are provided to needy children among the Indonesian villages in which we operate.
Infrastructure investment and support
Supporting the surrounding communities in the form of investments in infrastructure projects, participation in cultural and sports events as well as religious ceremonies are important avenues to build up a sense of togetherness between the company and neighbouring communities in Indonesia.
We finance and provide services to improve rural communities' access to services and markets, as well as to create employment. Our initiatives include the construction, maintenance and renovation of roads, bridges, places of worship and community facilities such as community halls, sports and cultural facilities.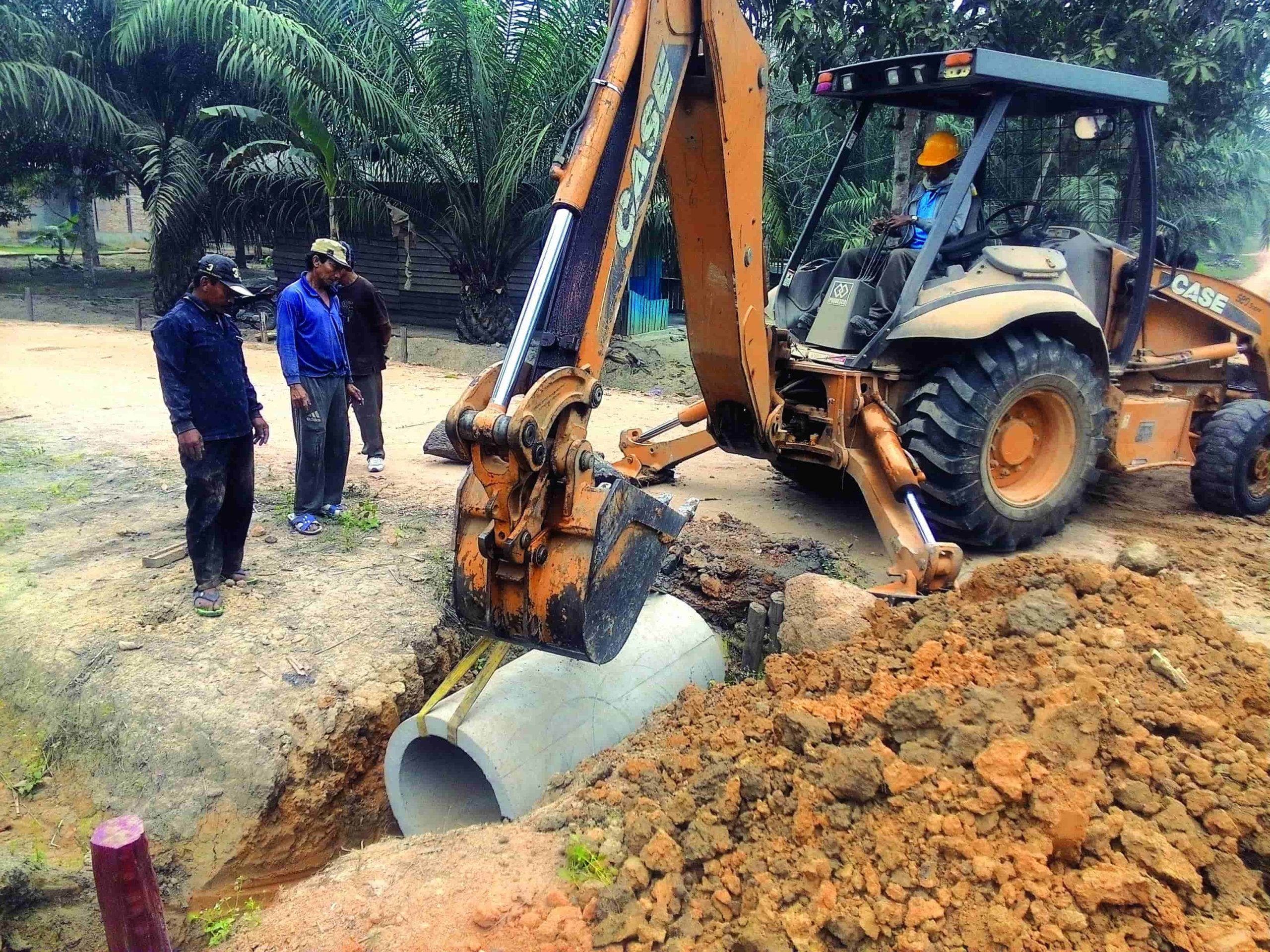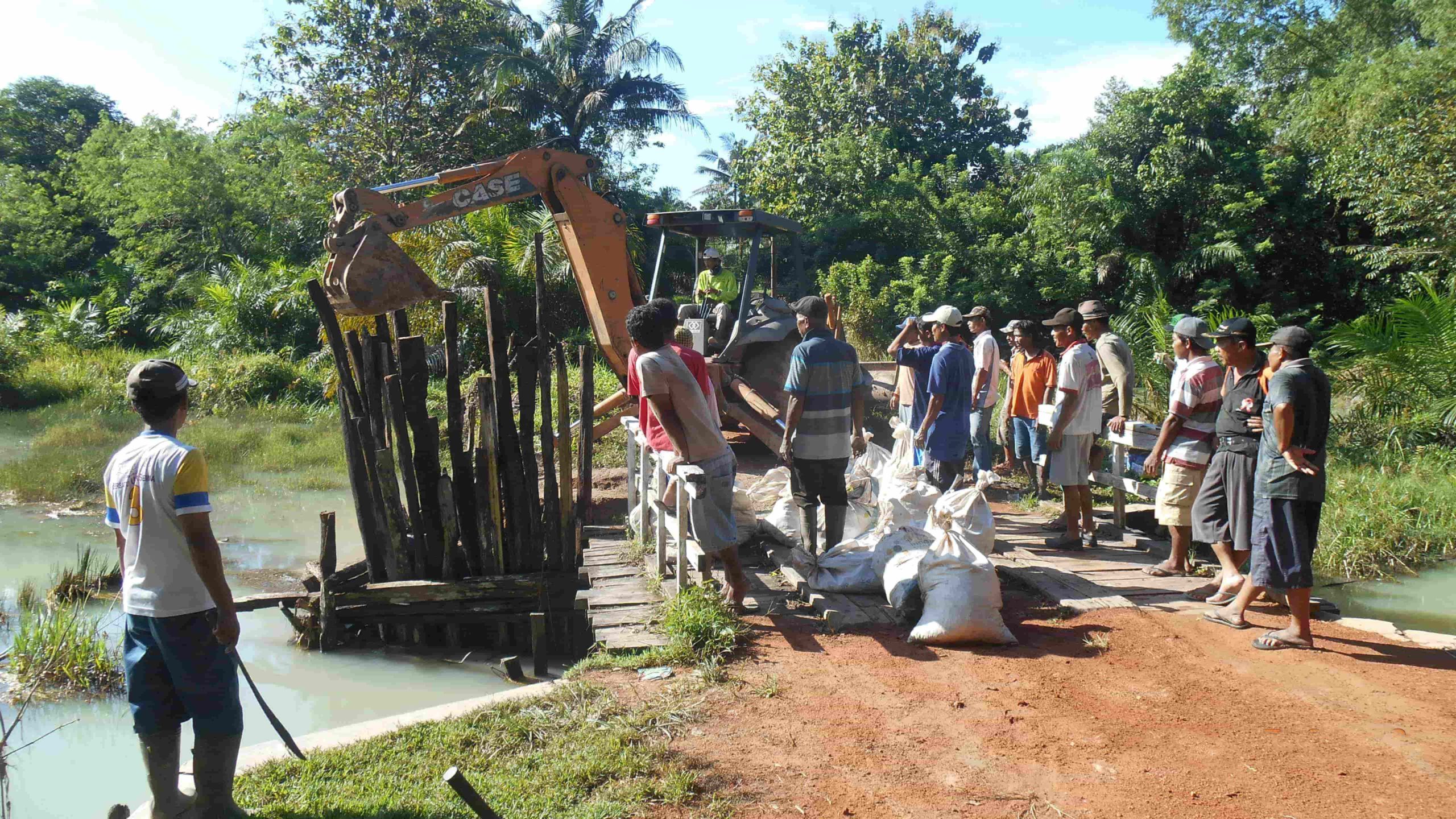 Contributions to Society and the Local Community
Today, our Group has 9 Primary Schools and 7 Kindergartens on its properties which are maintained by the Company, providing education for more than 500 children ranging from age of 5 to 12 years from within and outside the plantations.
Estate Group Hospitals
The Company operates two well-equipped estate group hospitals in Malaysia and Indonesia with trained resident Hospital Assistants supervised by a Medical Doctor.
Regular inspections of the employees' housing are made by the Health Care Team to ensure that sanitation, health and drainage standards are upkept according to the Company's policies.
In addition, we also organize visits by our medical staff to the neighbouring villages for the benefits of the local communities. Medical services are open to our rural neighbours who in the past lacked access to basic healthcare and immunisation programmes.
Free, Prior and Informed Consent (FPIC)
Our commitment to the principles of Free, Prior and Informed Consent and to adhere to these principles in all our negotiations and interactions with stakeholders as well as prior to any new acquisition.
All new land developments undertaken by United Plantations Berhad takes into account the environment, protection of cultural heritage and customary land use as well as the legal and agronomic land conditions that will permit and enable a sustainable agricultural development.
As part of our commitment towards the RSPO Principles and Criteria, we are required to ensure that the community understands the implications and options of leasing their land to the Company. Free, prior and informed consent (FPIC) recognizes indigenous peoples' inherent and prior rights to their lands and resources and respects their legitimate authority to require that third parties enter into an equal and respectful relationship with them, based on the principle of informed consent.
We also adhered to the UN Declaration on the Rights of Indigenous People and committed to respect the legal land tenure and customary or native rights. The similar commitment applies to our direct and indirect suppliers.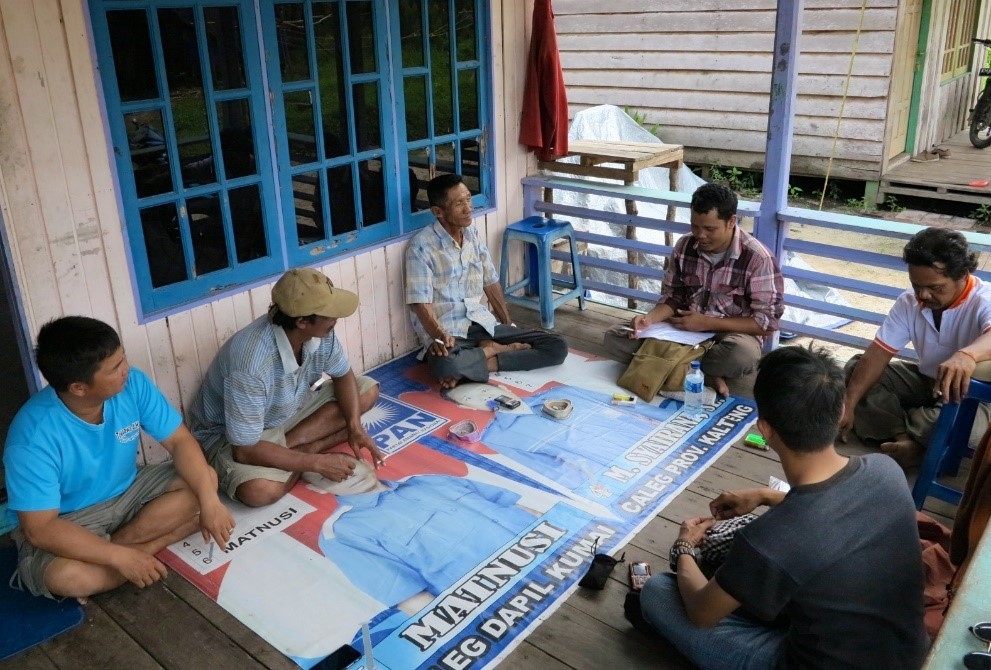 FPIC and our FPIC External Consultant, Lingkar Komunitas Sawit (LINKS)
In order to fulfil one of the key requirements of the HCV/ HCS studies in relation to the area identified for plasma development, UP has cooperated with LINKS since September 2014 and is fully committed to RSPO New Planting Procedures for Oil Palm.
LINKS is an independent NGO providing social consulting services with the aim of supporting multi-stakeholder efforts in achieving economic and social justice in the palm oil sector of Indonesia.
LINKS completed their consulting services with PTSSS in September 2017 and has done a very good job assisting UP in complying with a proper FPIC process and necessary planning for the Plasma development plans in Kumai.
Engagement, Stakeholder Identification and FPIC Training
Since 2014, LINKS has worked on social research and mapping, information dissemination, conflict mediation and training of FPIC related issues for the local communities, UP's employees and the local government in preparation for our Group's new Plasma development plans.
Of key importance has been the collaboration between UP and the local communities, especially the ex-landowners or tenants and their testators as well as the various stakeholders from the villages in the designated area.
The land tenure study and mapping
The land tenure study, including the mapping of the land, provided important information about the history of the Communities' land tenure. According to the findings of the land tenure study there were 332 family groups of the ex-land owners or tenants and their testators, who used to be the holders of the land of ±2,500 Ha in Kumai Estate.
The land tenure and mapping study revealed information on overlapping claims and individual landowners not willing to participate in the plasma development plans. These areas together with the identified conservation areas have been set aside from the total identified concession of area, leaving approximately 500 Ha available for new Plasma development.
The below diagram indicates the various steps to the FPIC process which ultimately will enable the potential establishment of the Plasma plantations.

The monitoring and evaluation of progress is important and will be carried out routinely in order to identify issues and find solutions together thereby maintaining a good relationship and a successful Plasma collaboration project.
Sustainability development and forest protection can be achieved by effectively implementing the processes summarized in the below diagram. HCV, HCS assessments (HCS Converged Approach) and FPIC processes must be integrated together with the other information specified above in order to develop appropriate development options.
The diagram below indicates the many important processes and inputs required in order to make an effective land use plan for concession areas.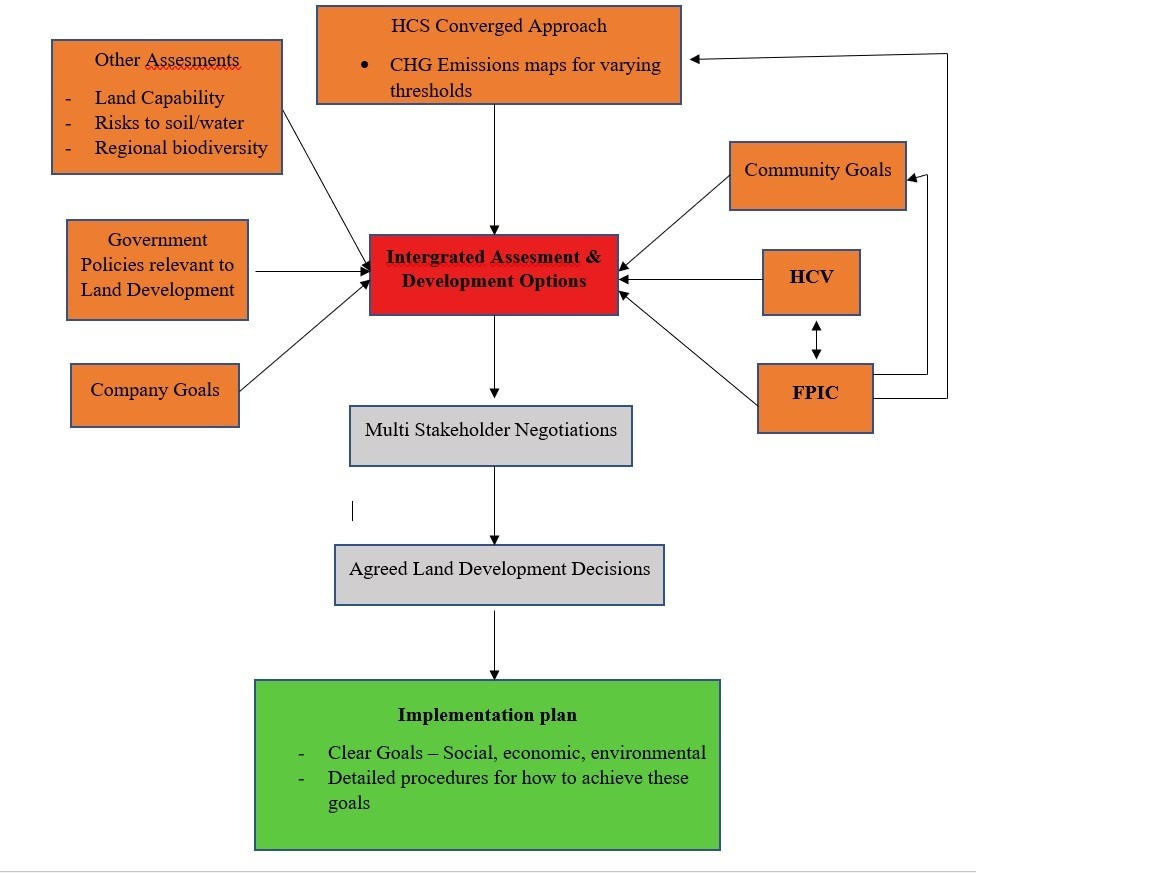 Balancing the effects of land conversion to oil palm on global climate issues with potential local/regional socio-economic benefits is extremely challenging, given the vastly differing spatial and temporal scales involved and the different metrics used to measure these impacts. This is only possible by using a comprehensive approach to land development decisions that integrates relevant social, economic and environmental inputs via multi-stakeholders negotiations.
Operations with significant actual and potential negative impacts on local communities
We conduct Social and Environment Impacts Assessment (SEIA) annually. Management plan is in place to mitigate negative impacts and promote the positive impacts. The similar commitment applies to all direct and indirect sourcing.
The negative impacts such as unpleasant odour from the effluent pond are mitigated by various action plans such as installation of aeration devices and the Biogas Plant. The rehabilitation of riparian is in progress to mitigate water pollution.
Continuous Stakeholder Engagement
UP has engagements with various stakeholders in and around our areas of operation. Our engagement approach varies for formal to informal. The external stakeholders include statutory bodies, NGOs, local communities, smallholders, third party FFB suppliers and long term service providers or contractors.
All enquiries by stakeholders are recorded and monitored in order to resolve any ongoing issues as sustainable development cannot be achieved without engagement with stakeholders.
Grievance Procedure for Stakeholder Issues
Under our MSPO, ISPO and RSPO framework, we are obligated to deal with issues openly. The respective Principles and Criteria states the need for a commitment to transparency and a mutually agreed system for dealing with complaints and grievances shall be in place and implemented. This procedure is given to ensure that local and other interested parties understand the communications and consultation process for raising any issues with UP.
UP accepts its responsibility as a corporate citizen and wants local communities to be aware and involved in the communications and consultation methods it uses, thereby aiming to resolve grievances (including those originating from employees) through a consultative process and realizes that any system must resolve disputes in an effective, timely and appropriate manner that is open and transparent to any affected party.
Recognising the value and importance of communication and consultation in clearing up misunderstanding/conflicts/grievances or raising any issues with UP, the following procedure is adopted, in an affective, timely and appropriate manner that is open and transparent to any affected parties.
Procedure for Handling External Stakeholders' Issues
The Company Secretary of United Plantations Berhad will be responsible for the handling of all enquiries and grievances against the Company. The stakeholder may lodge their enquiries/grievances to respective Estate Manager or Head of Department or direct to the Company Secretary. The Company Secretary's address is as follows:
The Company Secretary
United Plantations Berhad
Jendarata Estate
36009 Teluk Intan
Perak Darul Ridzuan, Malaysia
Tel: 05-6411411; Ext – 215,334
Fax: 05-6411876
Email: up@unitedplantations.com
Our grievance redressal procedure for external stakeholders is as follows:


We are pleased to inform that there was no breaches nor grievances lodge against labour/human rights, land dispute, deforestation, environmental pollutions and certifications during 2022.
To view the details of request and grievances for our Malaysian operations from January to December 2022 for internal and external stakeholders, please click here.
To view the details of request and grievances for our Indonesian operations from January to December 2022 for internal and external stakeholders, please click here.
Stakeholders Meeting
Annual stakeholders Meeting is organized by respective business units annually with participation of stakeholders from government authority, NGOs, suppliers, contractors, neighbouring estates and smallholders, local communities, Union representatives, guest workers representatives and temple/surau/church committee chairman.
Our obligation to a mutually agreed and documented system to deal with complaints and grievances, which is implemented and accepted by all parties.
Grievance Procedure for Whistleblowers
We are committed to high standards of ethical, moral and legal business conduct. This policy aims to provide an avenue for employees, suppliers and other stakeholders to raise concerns and reassurance that they will be protected from reprisals or victimization for whistleblowing. Concerns expressed anonymously will be explored appropriately.
For further details on our Whistleblowers Policy, please refer to www.unitedplantations.com
The policy is intended to cover protection for the whistleblower when raising concerns regarding United Plantations Berhad Group, such as concerns regarding:
Incorrect financial reporting;
Unlawful activities including corruption and bribes solicitation and;
Activities that are not in line with United Plantations Berhad policy, including the Code of Business Conduct; and
Activities, which otherwise amount to serious improper conduct.
The procedure the lodge grievances as whistleblowers are as follows:
Information can be provided directly to any of the following persons by telephone or in writing and mail to the following address.
Members of the Executive Committee: Y.Bhg. Dato' Carl Bek-Nielsen Tel. No. 05-6411411
Mr. Martin Bek-Nielsen Tel. No. 05-6411411
Mr. Loh Hang Pai Tel. No. 05-6366261
Company Secretary: Mr. Ng Eng Ho Tel. No. 05-6411411
Address: United Plantations Berhad, Jendarata Estate, 36009 Teluk Intan, Perak
Land Disputes Redressal Procedure
In Indonesia land disputes are inevitable and part of managing plantations in the country. To minimize land issues, important free, prior and informed consent sessions with stakeholders are conducted as a vital part of sustainable plantation development.
Land disputes can be based on many different variables and reasons. Some cases are genuine and can be due to historical reasons, bad heritage, misunderstanding and miscommunication, cases of wrongful compensation amounts and frivolous claims. It is however extremely important that land disputes are taken seriously and are well documented in order to ensure transparency and evidence in connection with various ongoing cases.
UP has been involved with several thousand land deals with the local community and whilst most cases of disputes have been amicably resolved, there still exists unresolved cases that are in the process of being resolved based on facts and full transparency under our Standard Operating Procedure (SOP) for Land Disputes Settlement as per FPIC. 
The SOP for Land Disputes Settlement as per FPIC is as follows: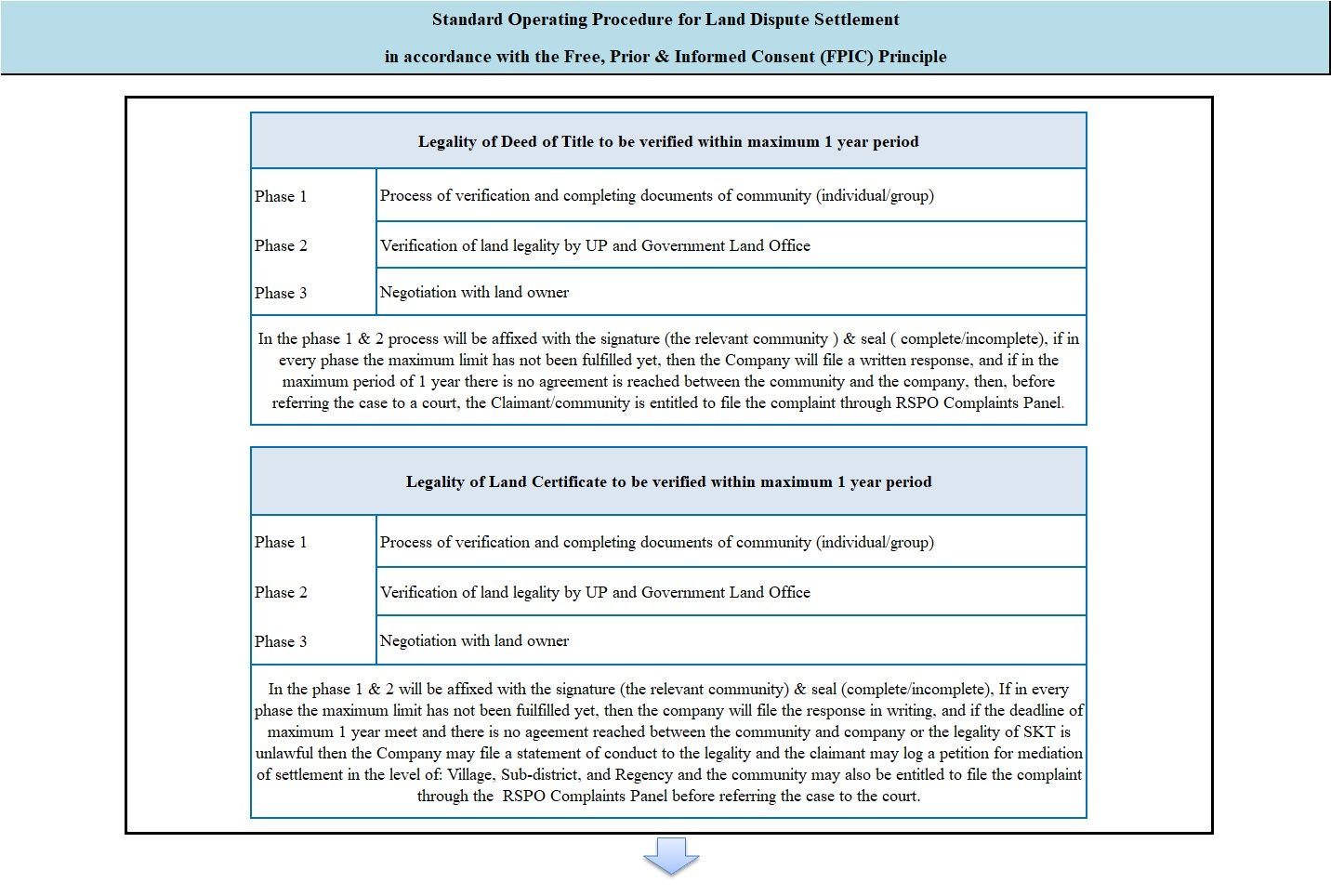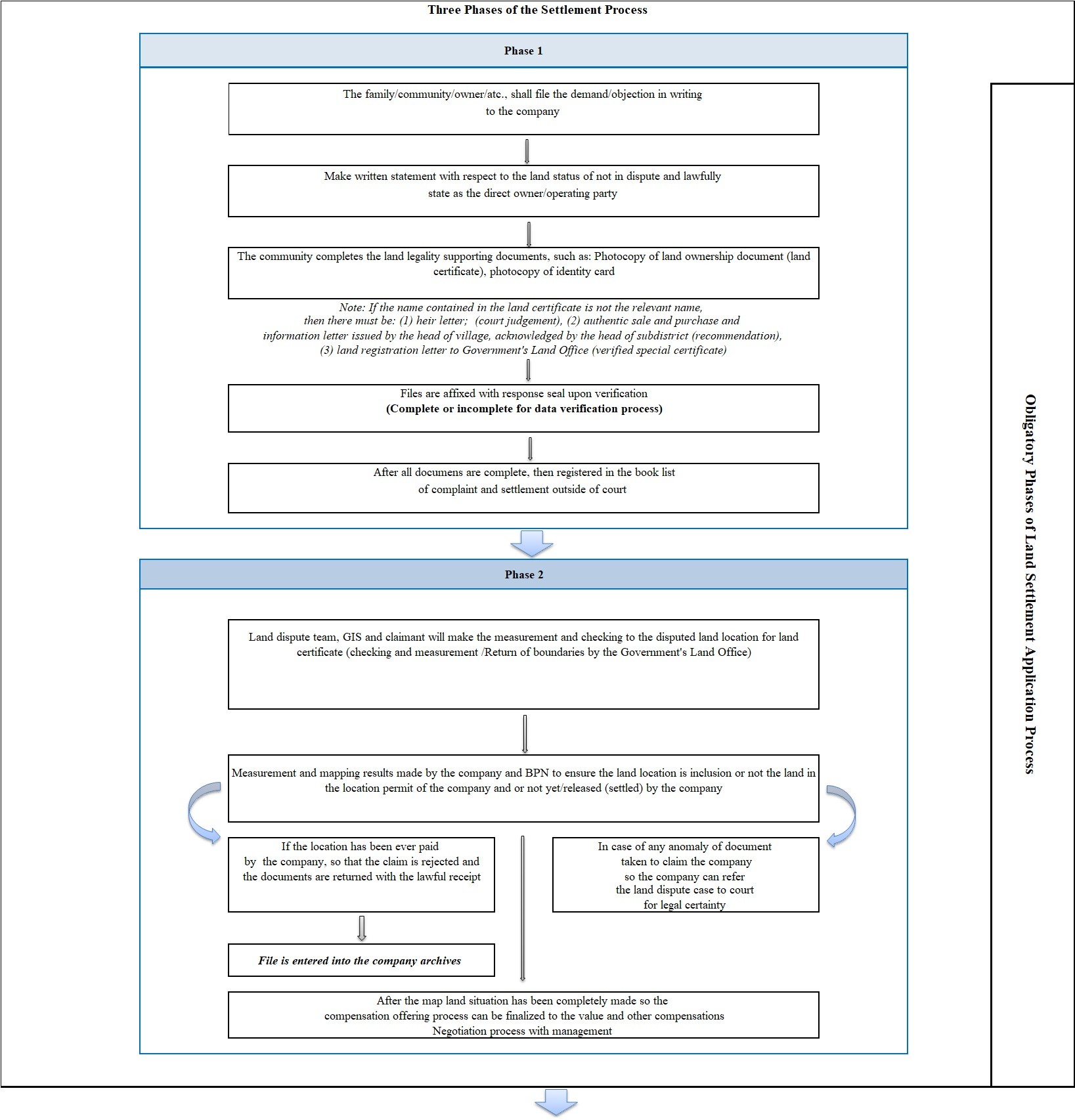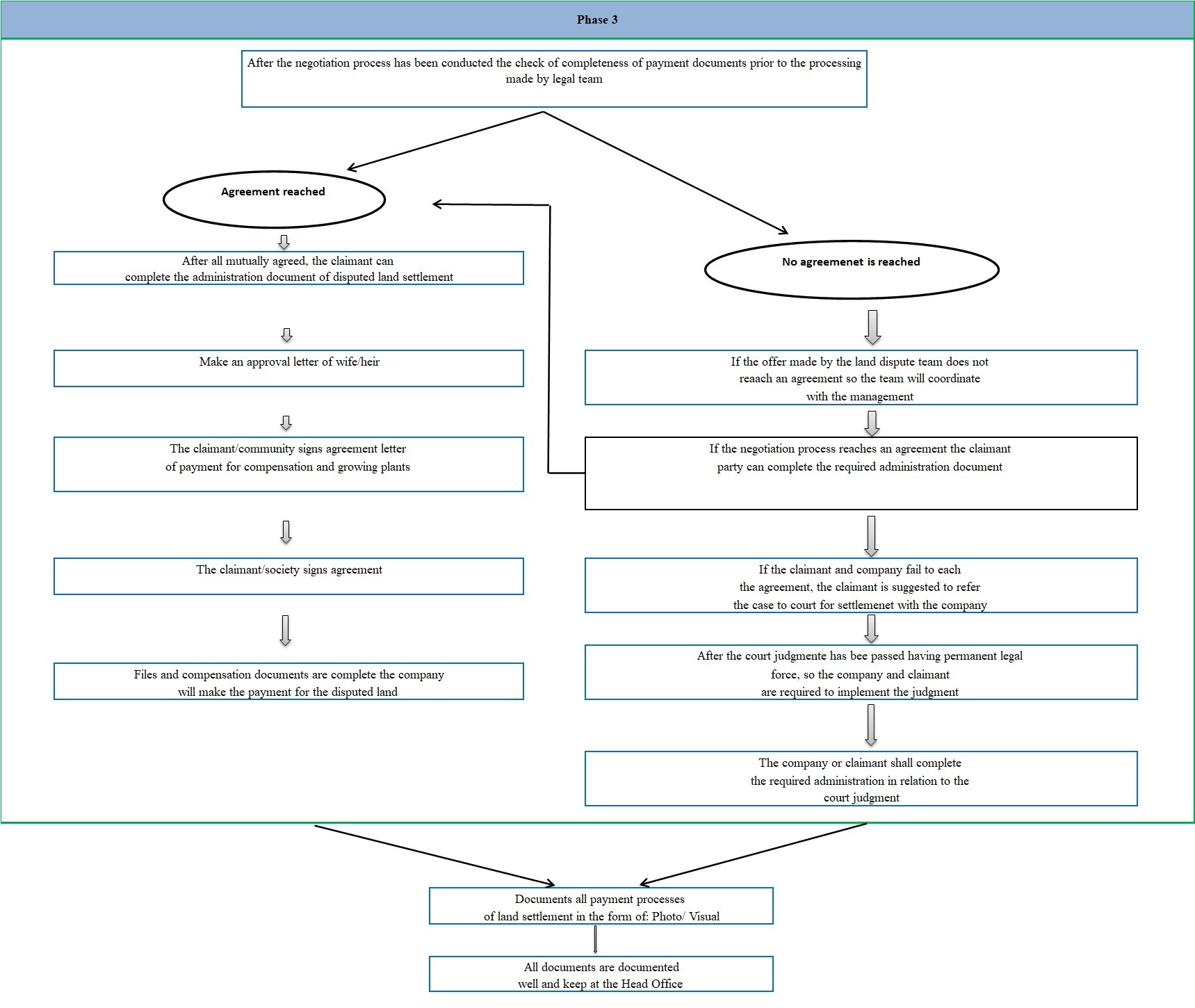 We are pleased to inform that there is no pending land dispute case in UP Malaysian and Indonesian operations. The pending dispute case in our Indonesian operations since 2014 (Pak Jaka Suherman) has been finally resolved amicably.
Plasma Development
Our obligation in Indonesia, to help smallholders to develop their land, including land preparation, for cultivation of oil palms to uplift the living standards of the local communities.
The Indonesian Government's objective is to ensure the establishment of Plasma Projects equivalent to 20% of a Company's planted area.
At our Indonesian Plantations, we are actively involved with a government project known as the Plasma Scheme, designed to assist smallholders to become independent plantation growers.
Under the Plasma Scheme, UP helps smallholders to develop their land, including land preparation, for cultivation of oil palms. Once developed, the plantation is managed by the Company for one cycle after which it will be handed over to the smallholder for self-management. During the first cycle, proceeds from the Plasma-areas minus development cost, is paid to the farmers by the Company.
We expect the scheme to provide more opportunities for the smallholders and help alleviate poverty. With this programme, we hope to steer them away from illegal logging, as well as slash-and-burn activities that can have a huge negative impact on the environment. In the early years of plantations development, before the oil palm trees reach maturity, the livelihood of smallholders is supported through employment by the Company.
They typically work as employees on our plantations, while they at the same time get an understanding of oil palm cultivation and best management practices. The Company provides the smallholders with sufficient resources and is committed to buying their FFB at government determined rates. To assist them, we provide vital training on plantations management practices and financial arrangements.
UP's Commitment to Plasma Projects
The Company's internal Plasma team has taken over the responsibility of the various plasma projects from our external plasma consultant Mr. Rudolf Heering who retired in August 2015. Further progress has been made during 2019-2020 with additional plasma areas have been developed.
As of 30th April 2022, 1,372.28 Ha of Plasma have been developed for 850 Plasma Scheme smallholders and another approximately 150-200 Ha is expected to be provided and developed for the communities surrounding the Company's properties in years to come.
All 845 Plasma Scheme smallholders are directly managed by the Company. Partnership with the local communities is crucial to achieve success in Indonesia and it is therefore of utmost importance that the local communities also benefit from UP's development.
Below is the geo-coded map of Plasma smallholders in UP/PTSSS as of 30th April 2022: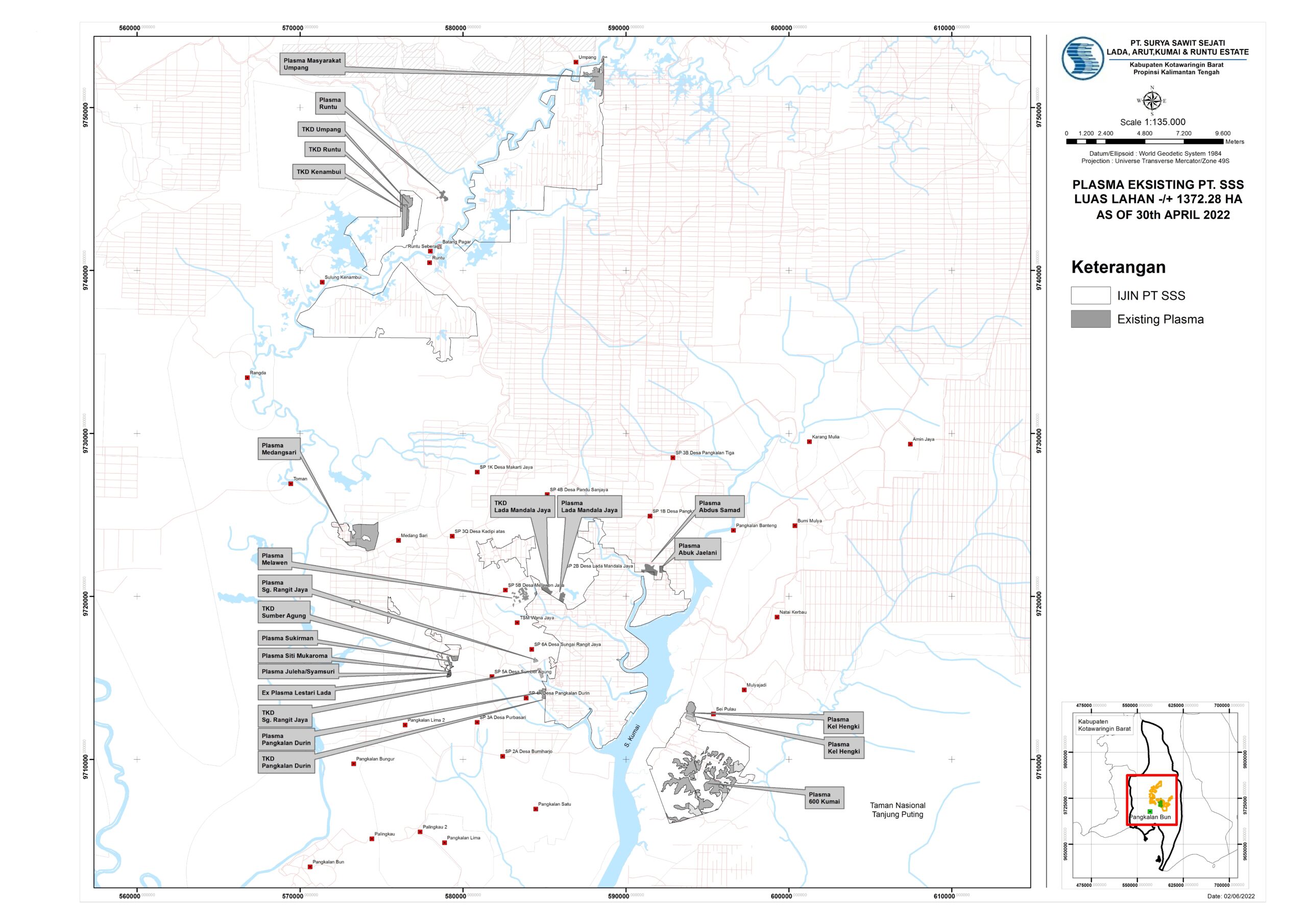 Smallholders Field Day
Oil palm smallholders have a critical role in helping us achieve our sustainability goals, they are part of the supply chain providing an estimated 40% of world palm oil production.
The RSPO defines smallholders with less than 50 hectares of cultivated land and are mostly family-run, with some sustenance farming to support basic needs.
As part of our Company's involvement, UP continuously engages with smallholders. In view of the COVID-19 pandemic, the Smallholder's Field Day for 2021 was deferred until the situation of COVID-19 is normalized.
The last Smallholder's Field Day was held on 16th November 2019. We invited 150 smallholders from local districts to visit our plantations to get a better understanding of good agricultural practices, sustainability initiatives and environmental protection.
We are pleased to inform that 134 smallholders or equivalent to 89% of the smallholders attended the Smallholders Field Day. The smallholders were given training sessions in safe handling of pesticides with appropriate Personal Protective Equipment (PPE), effective use of pre-emergent herbicides for less chemical usage, integrated pest management (IPM) mechanized harvesting in order to assist them with their agricultural interests. Demonstration on fire combat procedures were carried out to further enhance the awareness of neighbouring smallholders in case of fire incidence and were informed to contact UP for emergency assistance within the close vicinity.
We also invited Malaysian Palm Oil Board (MPOB) to provide briefing on the Good Agricultural Practices (GAP) as per MPOB GAP Manual and MSPO certification for smallholders.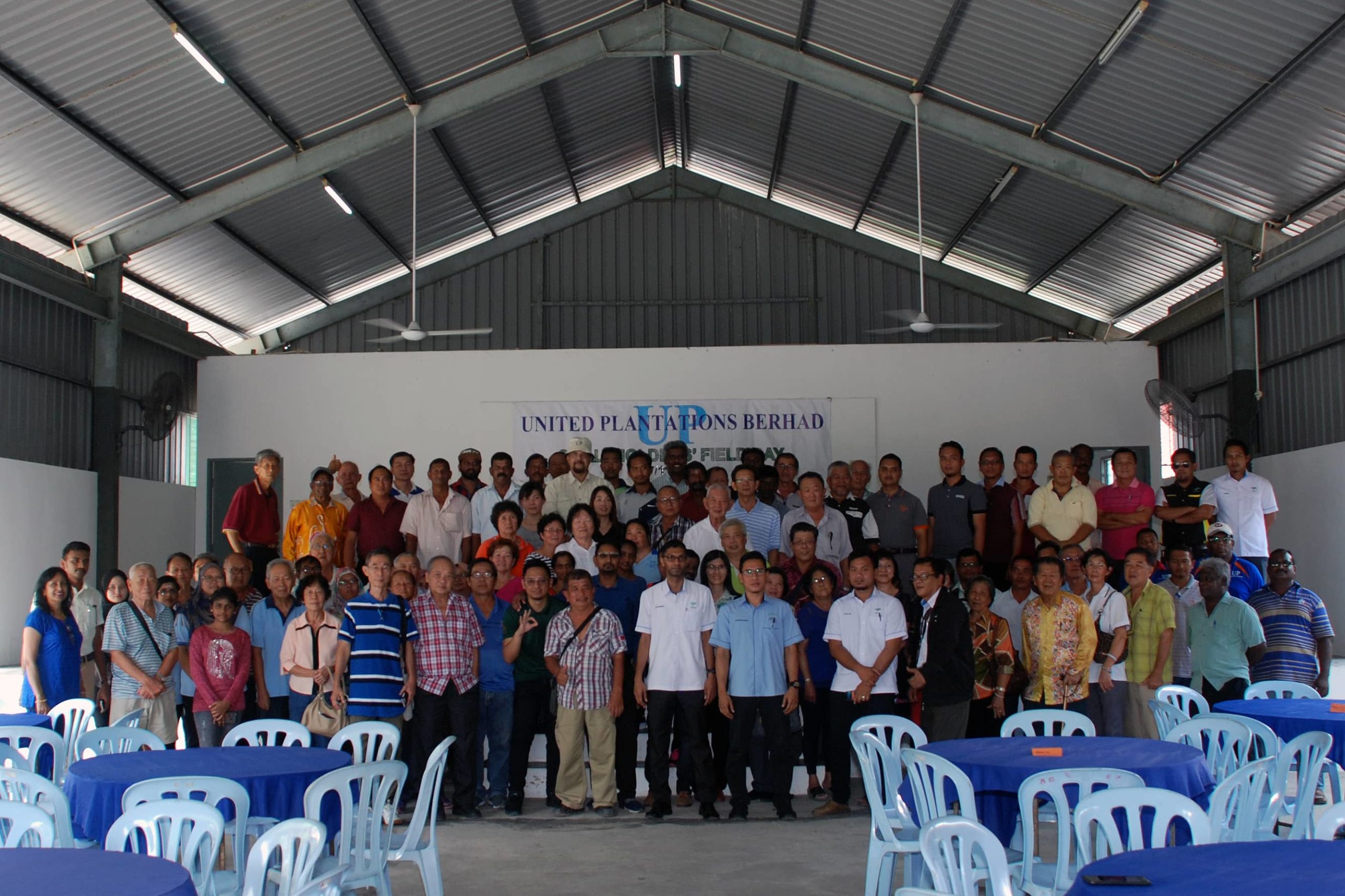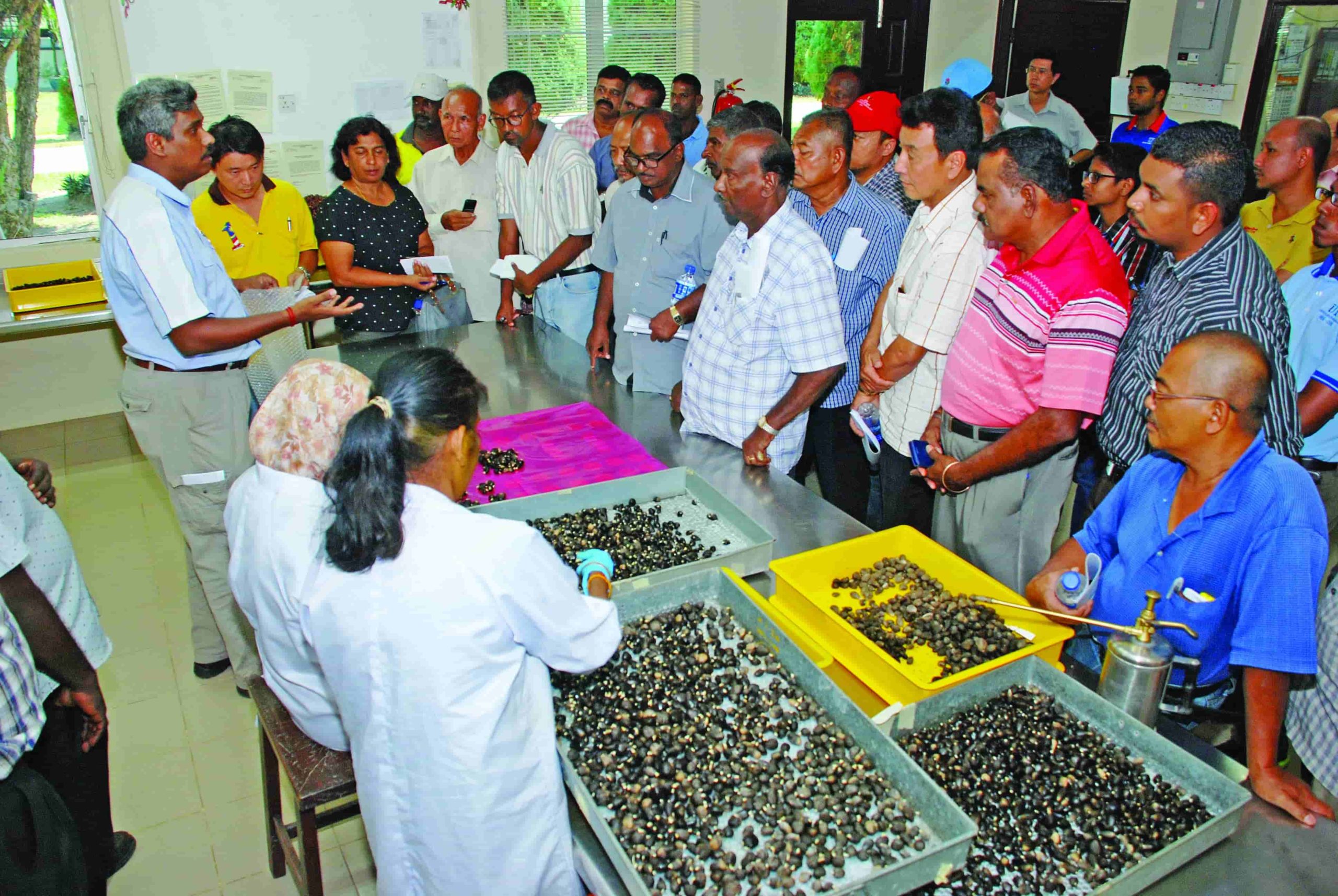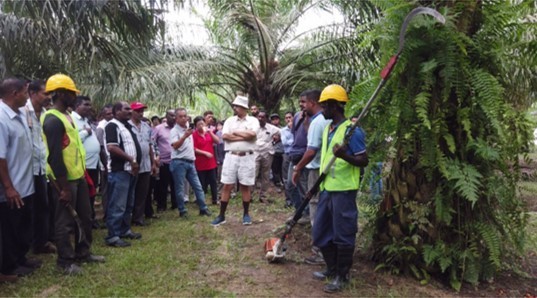 Food Security
To ensure local food security, as part of the FPIC process, participatory SIA and participatory land-use planning with local peoples, the full range of food provisioning options are considered. There is transparency of the land allocation process. The intent is to ensure food security and land use choices are considered as part of the formal FPIC process, prior to new developments. The commitment towards enhancing food security applies to our direct and indirect suppliers.
Our Group ensures affected local communities understand that they have the right to say 'no' to operations planned on their lands before and during initial discussions, during the stage of information gathering and associated consultations, during negotiations, and up until an agreement with our management is signed and ratified by all relevant local peoples. Efforts will be made to consider population dynamics.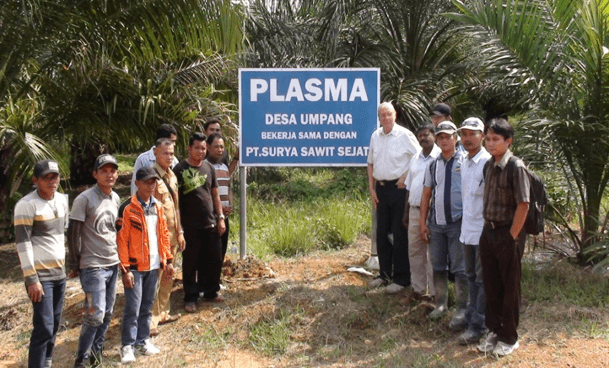 Discussion on land allocation for Plasma smallholders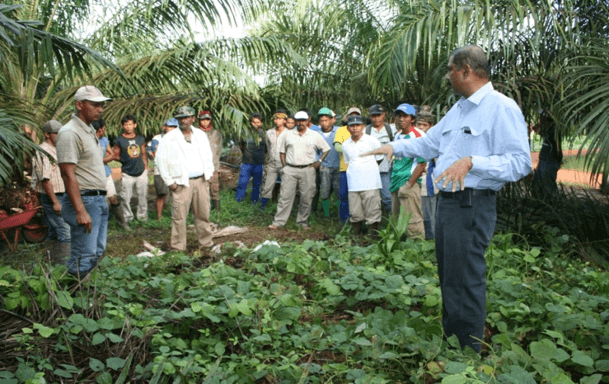 As of 31 December 2021, 1,364 hectares of Plasma areas have been established since 2006
Fruit Orchard
In Sungei Erong Estate, an orchard with local fruit trees is established for employees' and residents' consumption. The Company also plants coconut palms and fruit trees in the workers quarters for their access. Residents are encouraged to plant vegetables in their backyard.


A panoramic view of an orchard planted with local fruits trees at Charong Estate.
Progress of fruits trees planting in office and labour quarters compound in Charong Estate.
In addition, the Company facilitates the purchase of rice and sugar at wholesale price for the workers. Cooking oil is supplied to the workers at subsidized rate.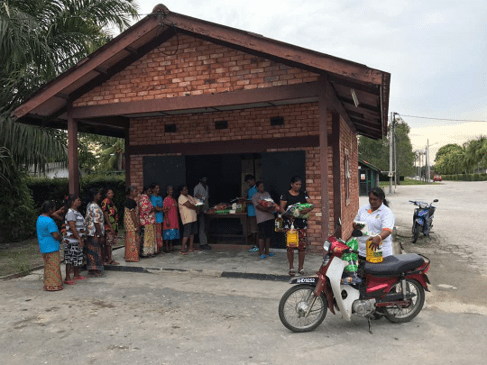 Issuance of rice, sugar and cooking oil to workers
Monthly night markets are held in the respective estates where residents have access to fresh sundry goods at competitive prices.
Landscape Approach
A landscape approach is about having community discuss and agree on various sustainability issues that provide an optimal balance between community, commercial and conservation interests.
At United Plantations, we recognize that community engagement, assessment and feedback are an integral part of our global sustainability strategy and initiatives. The community groups which are key to our operations and which have significant influence over the impacts of our business are carefully identified and are engaged at various platforms and intervals throughout the year. The community engagement process which includes a proactive and both formal and informal approach, is carried out to fully understand their sustainability concerns and issues with a view to ensuring that their key interests in these areas are aligned with that of our Group. Partnership with the local communities is crucial to achieve success in Indonesia and it is therefore of utmost importance that the local communities also benefit from UP's development.
Besides, our collaboration with Copenhagen Zoo which was introduced in 2007 continues to develop very satisfactory with notable initiatives and positive developments having been made in 2016. The objective of this cooperation is to better manage the conservation areas by preserving and conserving species of flora and fauna as well as their habitat and entire ecosystem.
Since 2014, LINKS has worked on social research and mapping, information dissemination, conflict mediation and training of FPIC related issues for the local communities, UP's employees and the local government in preparation for our Group's new Plasma development plans. Of key importance has been the collaboration between UP and the local communities, especially the ex-landowners or tenants and their testators as well as the various stakeholders from the villages in the designated area.
We are continuously improving our community engagement approach which is now evolving into more tailored and targeted engagement sessions with our community and the following provide an overview of the efforts involved in community engagement.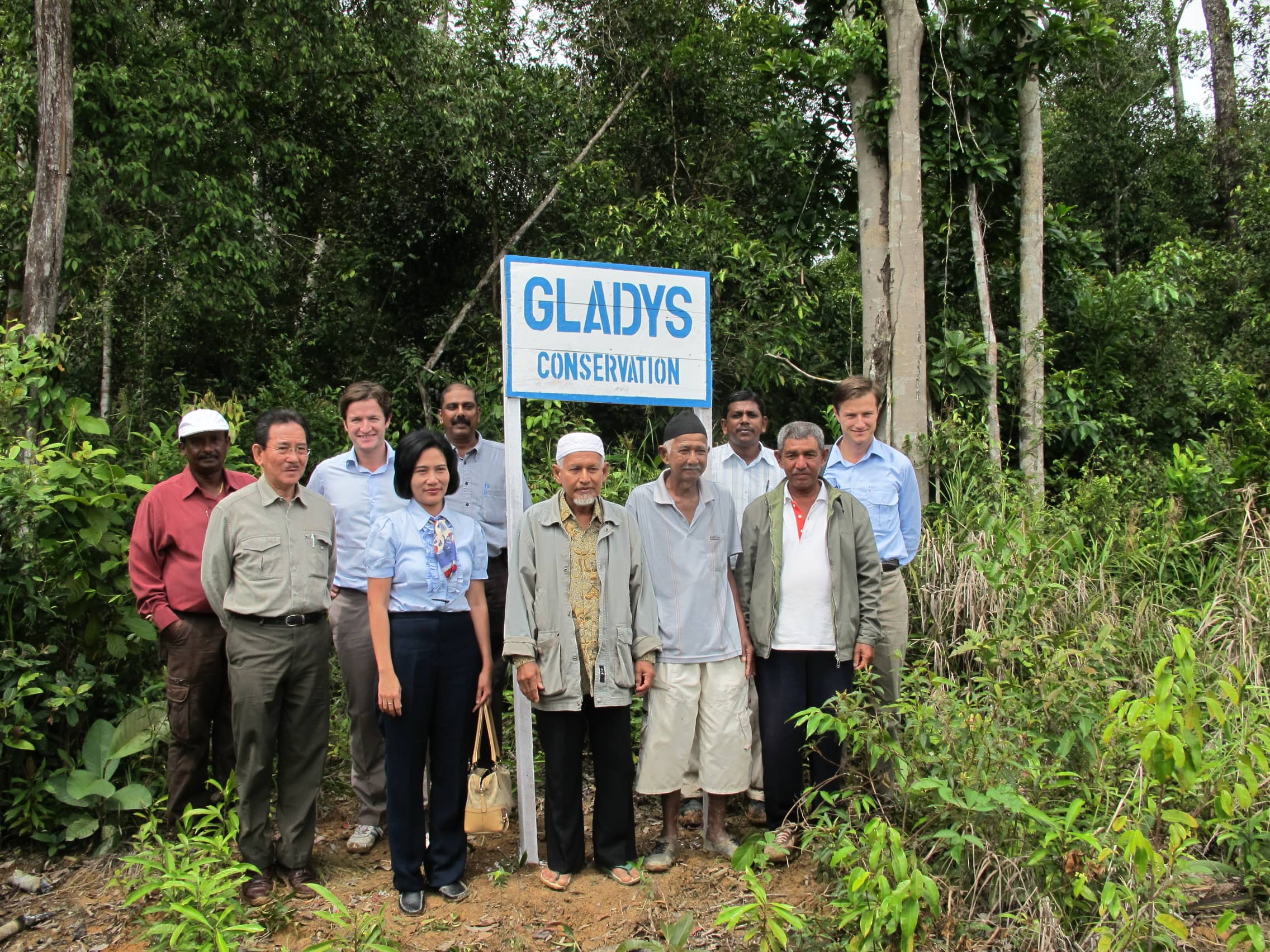 Establishment of Glady's Conservation in Pangkalan Bun, Indonesia with participation of communities in Sungai Biru.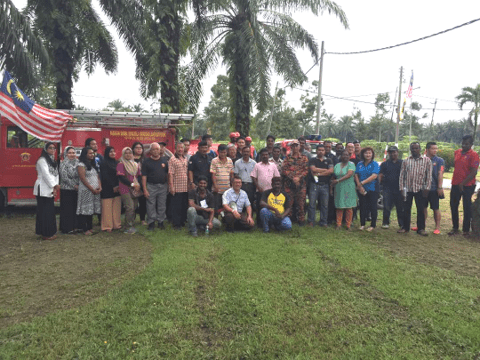 Seri Pelangi Estate collaborated with Fire Rescue Team (BOMBA) to conduct training on fire with participation of neighboring communities.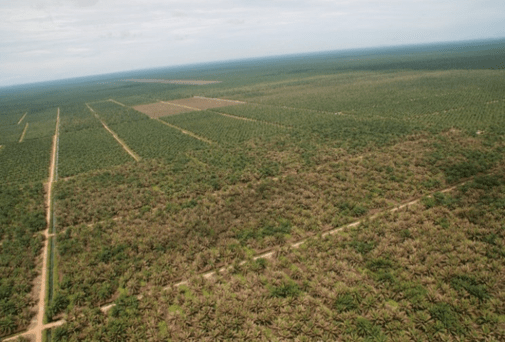 Extensive bagworm infestation in properties neighbouring with UP
Country
Region
Stake
Landscape approach

Malaysia

The Lagoon (Kingham-Cooper) Tree Species

Reserve at Pantai Remis (UIE)

Tropical jungle trees of Malaysia.

The Lagoon (Kingham-Cooper) Tree Species Reserve, the Main Office Parks, the Sg Anak Macang Riparian Reserve and the Bek-Nielsen Sanctuary were established in collaboration with PENAWAR HUTAN/James Kingham and community.

Most of the focus for additional trees planted was carried out along the length of the Sg Macang Riparian zone (southern river and boundary of UIE). All saplings and seeds were sourced in collaboration with PENAWAR HUTAN/James Kingham) who have been the main provider of rare and endangered species such as the 'Dipterocarpaceae Family' and the locally named Meranti species, valued for its timber hardwood.

To date, some 16,000 trees have been planted, covering a wide range of 265 species from 60 family groups, thus providing a good basis for biodiversity (with the objective of 70% as Food Chain species which attract birds and small mammals, and 30% as tall forest species) which have become threatened due to their valuable timber/hardwood use, and thereby achieving a good balance of the tree species established across the years.

We aim to continue enriching and intensifying the number of trees in UIE/UP, with a wider range of species in the years ahead and to create a unique collection of trees for seed supply and future establishment into further suitable estate reserves.

We wish to acknowledge our collaboration with Malaysia's "Tree Guru" (Mr James Kingham and his community) who has provided us with much generous time, saplings, seeds and advice over the years for direction and the way forward.

Lower Perak, Malaysia

Endemic outbreak of bagworm/ Usage of chemicals under WHO Class 1A and 1B pesticides or Stockholm and Rotterdam Convention

We facilitate aerial reconnaissance to neighboring growers to detect bagworm outbreaks in the vicinity to avoid its spread. United Plantations also provides her airstrips for aerial application of biological treatment in the form Bacillus thuringiensis. This is a collaboration between MPOA, MPOB and oil palm growers in Lower Perak.

We are working with stakeholders (chemical manufacturers) to determine suitable and effective alternatives for safe and effective bagworm treatment.

Indonesia

Gladys Conservation at Pangkalan Bun

Lowland forest

PTSSS-United Plantations in collaboration with the community at Sungai Biru agreed to conserve this rich lowland forest comprising 57 hectares called Glady's Conservation, which is adjacent to our Company's conservation belt. It is being constantly monitored and safeguarded by PTSSS-United Plantations.

Pangkalan Durin Conservation at Pangkalan Bun

Freshwater swamp

PTSSS-United Plantations in collaboration with the community and government authorities successfully convinced the community to preserve this rich freshwater swamp from being developed. The Company compensated the community for this stretch of freshwater swamp. The community now benefits water supply especially during the droughts. 

Benaning Community Conservation Forest at Kumai, Pangkalan Bun

Lowland forest

PTSSS-United Plantations in collaboration with the community, LINKS and FODEC consultants at Benaning, Kumai, agreed to conserve this rich lowland forest comprising of 11 hectares called

Hutan

Konservasi Benaning

from development by the community. This area is adjacent to our Company's conservation area and it is being monitored and safeguarded by the local community and PTSSS-United Plantations. The community stands to benefit from clean groundwater by the presence of this lowland forest.

Malaysia and Indonesia

Surrounding communities

Outbreak of fire

PTSSS-United Plantations in collaboration with the community conducts training in fire prevention and combat. The Company also assists in combating fire in the immediate adjacent villages along with the community. 

Malaysia and Denmark

Conservation area in PTSSS
Conservation area in PTSSS and adjacent area.

The collaboration with Copenhagen Zoo in Denmark was initiated in 2007 and officially established in 2010. This collaboration develops positively with many success stories arising from the hardwork, research and fascinating studies undertaken to date in the establishment of wildlife sanctuaries, green corridors with the adjacent conservation area and many other biodiversity conservation initiatives. 

Malaysia and NGO from Philippines

UP Malaysia
Strengthening human rights compliances
UP has been working closely with the social NGO, Verite to develop an ethnical recruitment procedure and mechanism to recruit guest workers in a responsible and ethical manner.
*Updated as of 31st December 2021