RESEARCH & DEVELOPMENT
A VITAL PART OF UNITED PLANTATIONS´ SUCCESS
Since we established our first plantation in 1906, United Plantations have been investing in research and development. These efforts have resulted in UP being recognised as one of the highest yielding plantation companies in the world.
An environmentally friendly and integrated company fully committed towards excellence in quality and productivity through innovative technology.
UPRD Motto
Formal Research on plant breeding began in the 1950s with the establishment of a small research office. The UP Research Department (UPRD) was officially established in 1962 at Jendarata Estate. The Research Department employs 10 highly motivated research officers, 26 support staff and over 193 workers, all continuing our commitment to support UP through innovative research practices and a comprehensive understanding of oil palm agriculture. The main research station is at Jendarata Estate, with sub-stations at Ulu Bernam Estate, UIE Estate, Sungei Bernam Estate as well as in PTSSS, Indonesia.
The Department's activities include research in crop improvement and crop production, advisory services and the production of quality planting materials. In addition, we also maintain close collaboration with universities and research institutions in the various areas of research.
A HISTORY OF RESEARCH & DEVELOPMENT
UPRD started experimental work in the 1950s in collaboration with the Department Of Agriculture Malaya. This included the exchange and evaluation of oil palm planting materials.
The objective of establishing the UP Research Department was to ensure that only the best possible planting materials would be made available for replanting of the rubber areas with oil palms during the late 1950s and early 1960s.
The department has, over the years, grown into a centre equipped with modern facilities including a Molecular Laboratory, a Tissue Culture Laboratory, Leaf and Soil Laboratory, Bunch Analysis Laboratory, Insectary Library and facilities for the production of oil palm, coconut and banana planting materials.
This drive to innovate newer and more efficient solutions continues today in line with the pioneering spirit that began in United Plantations over a century ago.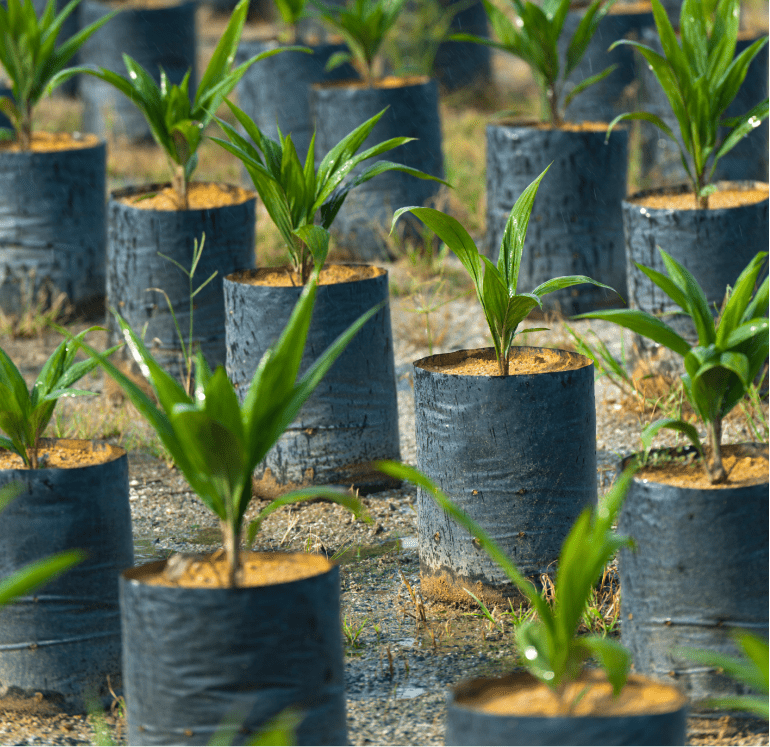 The disciplines of crop nutrition, crop protection and geoinformatics combine to ensure the optimal growth and productivity of our major crops as part of our commitment to environmentally friendly agriculture.
CROP NUTRITION
Crop nutrition is crucial for sustaining high yields of any crop, including oil palm and coconuts, without depleting soil reserves. Fertiliser recommendations are formulated on scientific and agronomic principles to ensure sufficient amounts of nutrient is supplied to meet plant requirements. To achieve this, many trials have been on-going since the inception of the department in the area of nutrient response studies, nutrient loss quantification, fertiliser evaluation, nursery trials etc.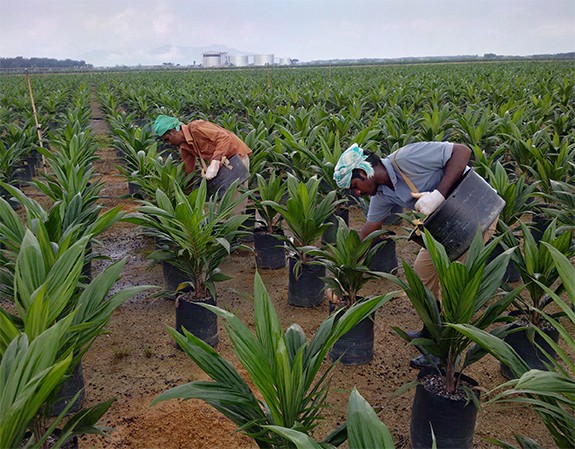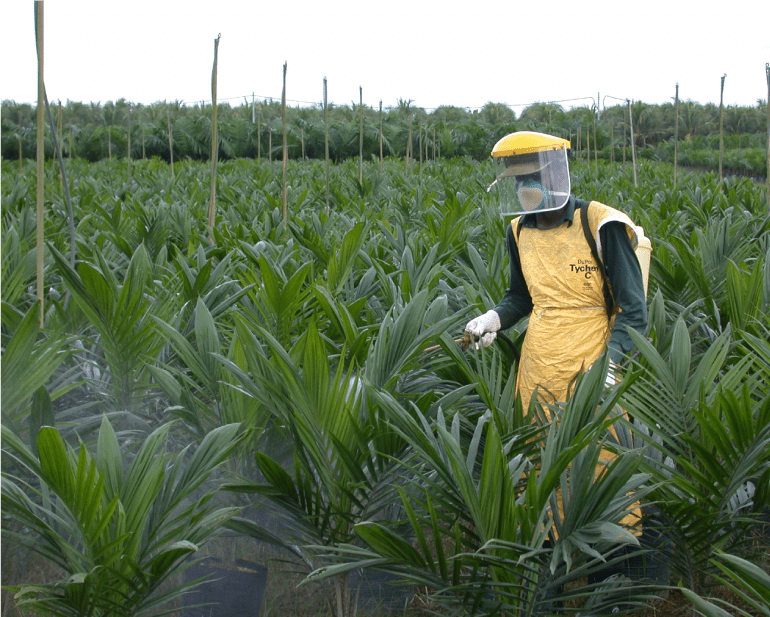 CROP PROTECTION
Research is focused on the major pests and diseases afflicting our primary crops, namely Ganoderma, bagworm as well as rhinoceros beetle and the red palm weevil. Ganoderma research is focused on the cultural, fungicidal, biological and disease resistance approach to manage the disease. Bagworm and leaf-eating pest control is reliant on integrated pest management and the identification of insecticides which are environmentally friendly. UPRD collaborates with public and private research institutions on a range of crop protection projects.
GEOINFORMATICS
UPRD has embarked on various aspects of geoinformatics since the turn of the millennium. Among such activities are the implementation of the early precision agriculture trial on oil palm in collaboration with MPOB and MACRES. Efforts are also underway in the integration of the classic agronomic activities with the latest GIS technologies, such as the geo-coding of the company's detailed soil maps and estate maps. At present, the department has a substantial database of the various crop and agronomic information of all its estates which assists in both agronomic and estate management of the crops concerned.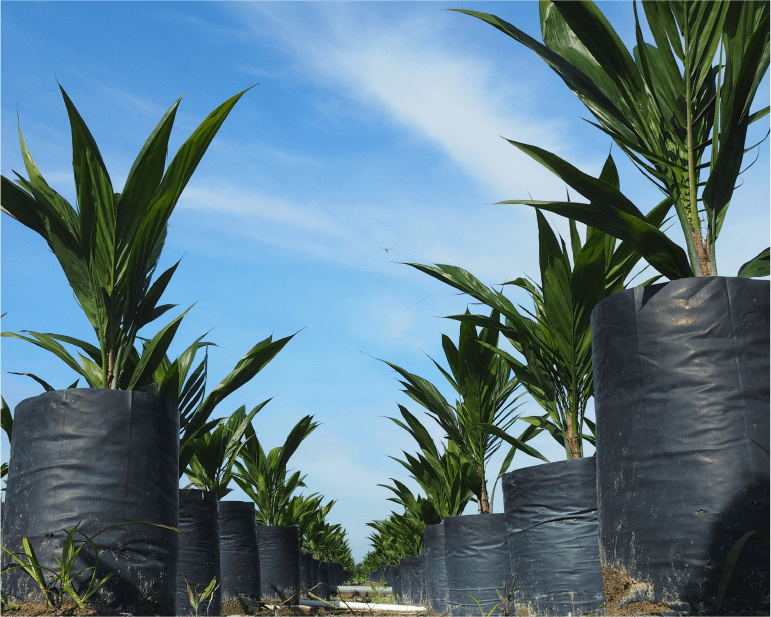 United Plantations had established analytical laboratories in Jendarata Estate (Malaysia) and Lada Estate (Indonesia) for chemical and physical analysis on soil, leaf and fertiliser samples to ensure the quality control of the fertilisers we purchase and to determine the nutritional status of our plants and soils to guide our fertiliser recommendations.
The laboratories are equipped with modern equipment such as Inductive Coupled Plasma-Optical Emission Spectrophotometer (ICP-OES), Atomic Absorption Spectrophotometer (AAS), Gas Chromatography (GC), High Performance Liquid Chromatography (HPLC), Flame Photometer and UV Spectrophotometer for precise and reliable analysis. The laboratories are also equipped for oleochemical analysis such as fatty acid composition and vitamin content to support the breeding programme.
Our team of registered chemists are committed towards providing accurate, efficient, professional and reliable analytical services both for in-house and external customers. As an assurance of our standards, we participate in the proficiency testing programme organised by the Agricultural Laboratories Association of Malaysia (AgLAM) for our Malaysian laboratory and the Balai Penelitian Tanah Programme for our Indonesian laboratory.
In our drive for higher yield, increased land productivity and the production of advanced planting material with superior quality and vegetative traits, we rely on classical plant breeding as well as molecular technologies.
PLANT BREEDING
The primary objective of UPRD's breeding team is to achieve higher yields by creating planting materials of advanced quality and yield potential. This is carried out through four major pathways for oil palm and coconut breeding: Dura improvement, Pisifera improvement, progeny testing and germplasm conservation for oil palm. For coconut breeding, the Dwarf x Dwarf programmes, Tall x Tall programmes, hybrid evaluation and germplasm conservation programmes are employed. Only the best materials with a broad and proven genetic base for better adaptability, high yield potential and high precocity produced under stringent quality control are sold and distributed for commercial plantings.
Although focused mainly on commercial yield traits, novel characteristics such as long stalk, short height, high unsaturated fatty acid and high carotene in oil palm as well as early bearing, large nut size, aromatic water and milk and high medium-chain fatty acids (MCFAs) in coconut are constantly being explored and improved through systematic breeding programmes.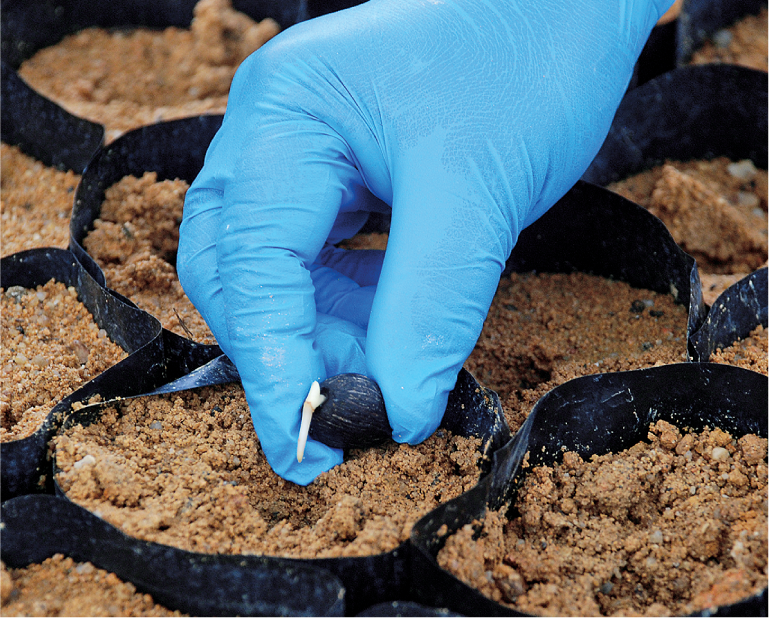 TISSUE CULTURE LABORATORY
The tissue culture laboratory was purpose-built and launched in 1987 using in-vitro cell culture technology for research and development and mass production of elite planting materials (oil palm, bananas and ornamental plants) with improved agronomic characteristics.
Our research focuses on cloning of elite dura mother palms and clonal pisifera father palms for bi-clonal seed production with the combined advantages of uniform growth and high yield. Beside producing elite parental palms, mass production and planting of superior high yielding tenera clones is also pursued to improve the oil yield and productivity in our plantations.
MOLECULAR LABORATORY
The discovery of the plant genome has led to the use of molecular technologies in crop improvement. Since 2011, United Plantations has embarked on using molecular technologies such as DNA fingerprinting and trait-related markers in their continuous search for new varieties as well as improvement of their planting materials and as a tool for quality assurance in oil palm, coconut and banana.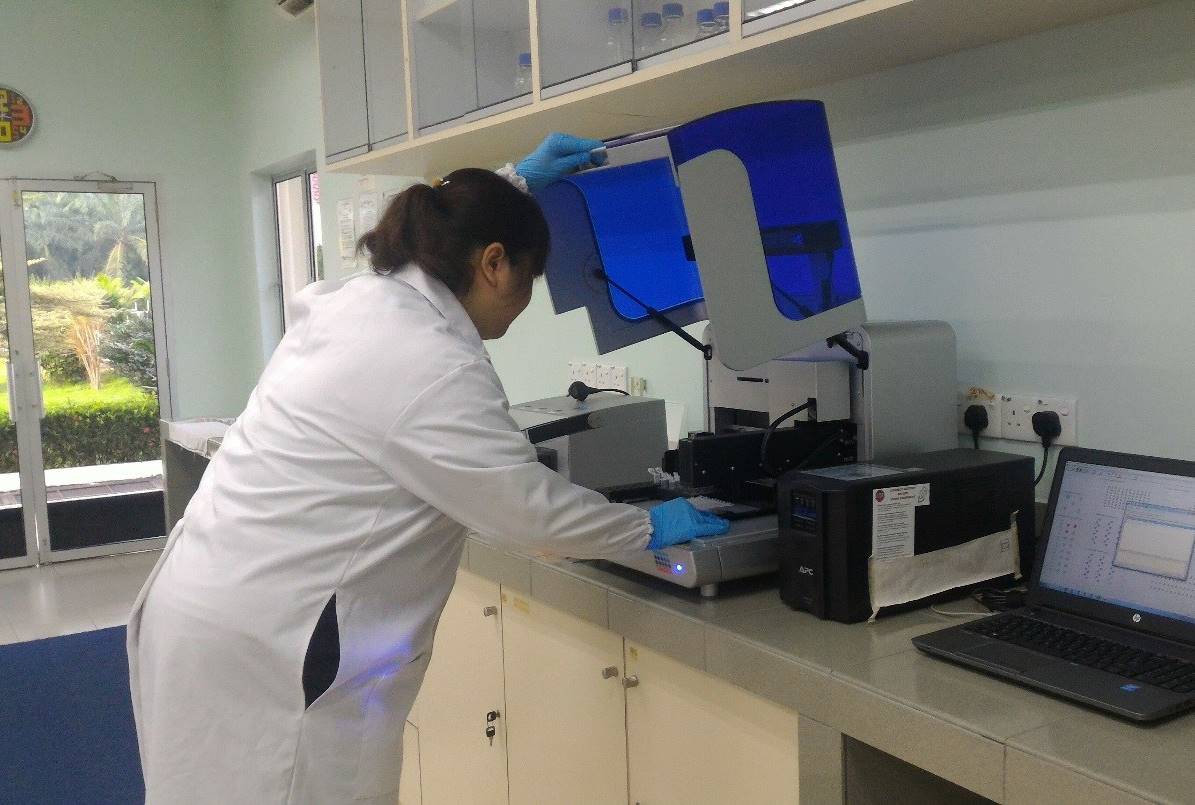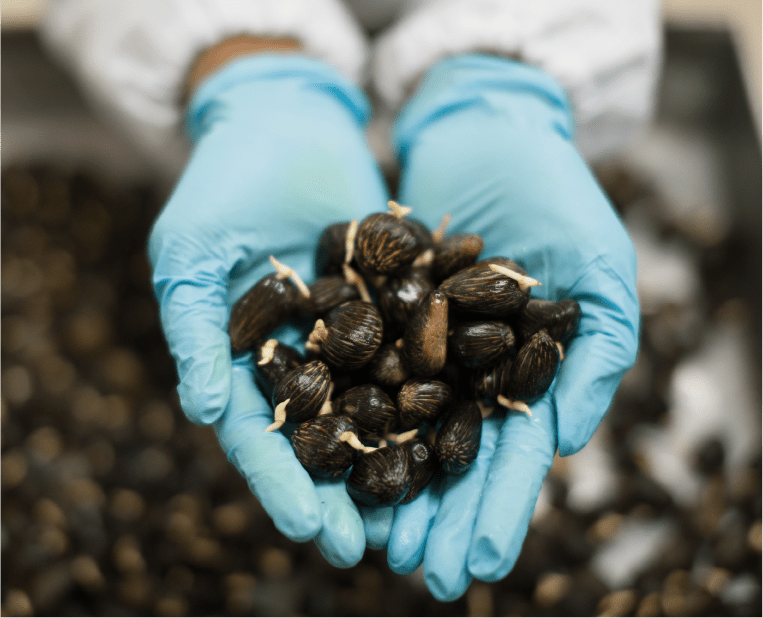 PLANTING MATERIAL
The seed production unit was set up in the early 1980's to cater for United Plantation's demand for planting material. Thereafter it has grown to a production capacity of eight million seeds per year, primarily with the sales of two planting materials: Premier Hybrid DxP and Perdana Biclonal seeds. We are the first in the country to commercially market bi-clonal seeds, launched in conjunction with United Plantation's centenary in 2006.
United Plantation's seeds are heavily regulated by both the Malaysian SIRIM Standards for planting material as well as the Malaysian Palm Oil Board. United Plantation's tissue culture laboratory was amongst the earliest producers of tissue culture banana planting materials in the country and is recognised by growers for our consistent high quality.
UP Group CPO Yield in MT/Ha
Long term comparison of United Plantations crude palm oil (CPO) output with Malaysian National output expressed as CPO tonnes per hectare. UP record from 2010 onwards is a combination of Malaysian and Indonesian data